Tonganoxie
VFW

post lands a helicopter
Adrenalin soared Friday morning as a Vietnam-era Huey helicopter landed at VFW Memorial Park.
VFW member Larry Meadows whooped and hollered as a crane set the 5,000-pound chopper on the ground. This move put the VFW members close to their two-year goal of displaying a helicopter in the park.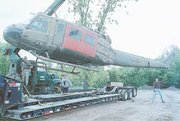 "We wrote, as a chapter, to the Department of Defense it took a year and a half of writing letters," Meadows said. "We acquired this helicopter through the same channels as we got the tank."
In January, VFW members learned a U.S. Army helicopter was available. In March, they determined where it was and what they had to do to get it. Then the members, already in the process of borrowing funds to complete their new post home, tried to figure out how to pay the helicopter's $2,000 shipping cost.
Jim Crain and his son, Eric Crain, who work for Anchor Trucking, Kansas City, Kan., stepped in. They arranged for the trucking company to bring the helicopter from Fort Rucker, Ala., to Tonganoxie free of charge.
Part of the agreement with the Department of Defense stipulates that the VFW members must each year send a photograph of the helicopter to the Department of Defense and maintain it. The helicopter remains under the ownership of the government.
"If they did need it, they could come and get it," Meadows said.
VFW members plan to have the helicopter on display by July. It will be mounted on a 20-foot-high platform near the army tank and visible from the road. Before it is mounted, Tonganoxie Boy Scouts will give it a fresh coat of paint, Meadows said.
Art Miller, post commander, helped unload the helicopter.
"We're going to have a museum here before you know it," Miller said.
The next addition to the park will recognize former Navy men.
"We plan to get an anchor down here," Miller said.
He said the park is well used.
"Everybody really seems to appreciate the park they call and want to reserve it all the time," he said. "When we get the post home opened up here I think it will really be great."
Miller said VFW members plan for the new post home to be ready for use in July.
"It won't be complete by then, but it will be usable," he said.
Miller credited one veteran for much of the park's progress. "We wouldn't be able to accomplish half the things here if it weren't for Larry Meadows," Miller said.