Korean War veteran treasures medallion received late
The setting sun has not rustled Bill Lux's memories of the Korean War. He rattles off the names of cities and regions of Korea as if they were in the next county.
Almost five decades have passed since he left the land where as a young man he fought in the conflict that is often termed "The Forgotten War."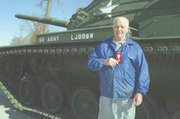 Yet two years ago, Lux received a package in the mail ? a letter from Kim Dae-Jung, president of the Republic of Korea, thanking him for his service in Korea, and a medal. It was the 50th anniversary of the start of the Korean War, a conflict fought by an estimated 1.75 million Americans.
Lux was one of the lucky ones - he made it back alive.
He recalls his view of the Golden Gate Bridge when he finally returned to the states.
"It was the best sight I ever saw," Lux said.
Drafted at 24 after he had worked full time as a truck driver since the age of 13, Lux arrived in Korea in May 1953.
He had been trained by the Army to drive a tank, but once in Korea, he was assigned to drive a truck. The war ended three months after he arrived. He finally made it back in September 1954.
His brother made it back, too.
Both were not first draft picks. Lux said his brother, Harold Lux, who now lives in Dennison, was selected despite one leg being 1.5 inches shorter than the other. And Lux was drafted despite being rated 4F because of back problems.
"They ran out of bodies in Jefferson County," Lux said. "They said if I'd have been in Leavenworth County I wouldn't have had to go ? Jefferson County at that time wasn't a very big county population-wise."
War in Korea was a far cry from his rural Kansas upbringing.
"Well, whenever they're shooting at you, you do sometimes wonder what you're doing over there," Lux said.
He learned survival techniques.
"Whenever they'd go to bombing, you'd get under the axle of your truck," Lux said. "You're not as likely to get hit there."
The moments of terror still claw at him. But Lux realizes all too well he was one of the lucky ones.
"Whenever those bullets went click : click : click : click, as long as you could hear them firing that was good," Lux said.
He wonders about those who never made it back.
"The Korean War is the forgotten war," Lux said. "We've got more than twice missing in action than what Vietnam had."
Art Miller, commander of Tonganoxie's VFW Post 9271, said most of the post's members are from World War II and Vietnam. Harold Putthoff, another VFW member, said only about six of the post's 137 members fought in the Korean War.