Teenager collects coats for homeless
Bright and early Saturday morning, Lacey Sturgis was hard at work.
The Tonganoxie Junior High ninth-grader had plans to spend the morning in activities at school, but she first needed to load the family SUV with a stash of 93 coats and 11 blankets.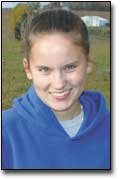 By 8:30 a.m., Lacey was ready to head for school and the coats and blankets were ready to head for Kansas City where they would be cleaned and distributed to the homeless through a program known as Project Warmth.
In August, Lacey decided to collect as many coats as she could. As family and friends learned of her goal, the coats started coming in. And, she set up donation boxes at the junior high.
"They're in all sizes, but mostly adult ones," she said.
Lacey's mother, Melissa Sturgis, said she and her husband, John, were proud of their daughter's dedication.
"This has really been her project," Melissa Sturgis said. "She's made all the fliers, she's done all the calls ? all by herself."
This isn't the first time Lacey's stepped up to volunteer, her mother said.
"She has rung bells for the Salvation Army, and she's donated stuffed animals to Sunflower House, which is a domestic abuse program," Melissa Sturgis said.
Lacey's work has drawn the notice of her school principal, Steve Woolf. Earlier this month, Woolf nominated her for the Prudential Spirit of Community award.
"It wasn't just the coat drive," Woolf said. "She's helped with Sunflower House, Harvesters food pantry, the Alliance Against Family Violence and Sexual Assault."
Every year, Woolf looks for a student to nominate.
"I don't always nominate a person," Woolf said, adding he expects Lacey to win.
"I'll be shocked if there's another kid out there doing more," Woolf said.