Tonganoxie native fulfills lifelong dream in U.S. Navy
1996
THS

graduate, fresh from the Persian Gulf, talks about Iraq
Tonganoxie native Chris McDaniel says it's time to fight.
"I'm definitely for it," said McDaniel, who is in the U.S. Navy, of the nation's debate about a possible war with Iraq.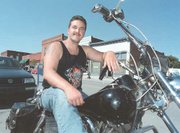 "I think it's that I personally wouldn't want a country controlled by someone like Saddam Hussein having nuclear weapons," McDaniel said. "If he's going to attempt to make them, I think we should do whatever is necessary to prevent that."
McDaniel, who for most of the past four and one-half years has served aboard the U.S.S. George Washington, spent three months this summer on the nuclear-powered naval aircraft carrier in the Persian Gulf.
"We were actually giving air support to the troops in Iraq and supporting bombing missions," McDaniel said.
An aviation electronics technician second class, McDaniel said he didn't see the bombs drop.
"We've got aircraft on board with us, we were loading bombs on them and shooting them off and they were coming back with nothing attached," McDaniel said.
A desire to travel
McDaniel, a 1996 graduate of Tonganoxie High School, stopped in Tonganoxie last week on his way from Virginia Beach, Va., to San Diego. He is the son of Calvin and the late Marie McDaniel, Tonganoxie.
In joining the service at 19, he fulfilled a lifelong dream.
"Since I was about 5, that's all I ever wanted to do was join the army or another one of the services," McDaniel said. "I think my Uncle Andy was in the Navy I think that was part of what gave me the idea. I wanted to be able to travel a lot, see new places."
After boot camp in Great Lakes, Ill., McDaniel spent a year studying electronics and radar systems in Pensacola and Jacksonville.
He has since been stationed on the U.S.S. George Washington. His primary work there was to repair the fire control radar systems on F/A18 Hornets, all-weather fighter and attack aircrafts. He is also trained to work on the same systems on F-14 Tomcats.
In October, McDaniel will take a new post this one on solid ground north of San Diego. Fortunately for McDaniel, his wife, Hope, who is also in the Navy, is currently stationed in San Diego. The couple, married for five years, have only lived together for about 11 months. The rest of the time, either Hope or Chris has been at sea. Hope, who is from Alaska, works for the Third Fleet Admiral as a data analyst. Her work isn't necessarily stationary either, Chris said.
"She'll go wherever the admiral goes," he said.
The couple plan to stay in the military until retirement at age 39.
"Then, we're talking about selling everything except our two Harleys and taking a couple of years to see the U.S. by motorcycle," McDaniel said. "We've both seen about half the world, so I figure we can just ride and see America for awhile."
McDaniel said his small-town upbringing helped him tolerate the constraints of weeks, and sometimes months, at a time on an aircraft carrier.
"Being from a small town makes it a little easier when you're on board a ship," McDaniel said. "Some of my friends from big cities just feel so trapped when they're on the ship. But growing up here helped there's 6,000 people on the boat so it didn't feel too different to me from home."
McDaniel, who describes himself as a "daredevil," stands 6-foot and weighs 220 pounds. Even as a child he was fearless, he said.
"I was always the one to say, 'yeah I can jump off that bridge into the creek, ain't no problem,'" McDaniel said. "I was a little wild when I was younger. I think the Navy has definitely calmed that down some."
But not too much.
In his black Harley Davidson tank top, jeans and boots, on his black Harley Davidson as he revs the engine, and with his tattoos that line his muscled arms, McDaniel doesn't look like he'd be a good guy to pick a fight with.
He grins, his warm smile accenting deep brown eyes, pauses for just a second, and says: "I never really had anybody pick on me or anything."
While in town last week, McDaniel stopped to see one of his favorite people Ron Lewis, who teaches chemistry, physics and advance placement chemistry at Tonganoxie High School.
McDaniel said his knowledge of electronics started at Tonganoxie High School.
"Paying attention to Mr. Lewis in physics class helped out," McDaniel said.
Lewis said he was glad to hear of McDaniel's career.
"It was really exciting to see him come back and talk about the radar and just realize that something we did in school is what he's actually using," Lewis said.
Lewis remembered McDaniel as a good student in his classes.
"He was part of a really good group of kids," Lewis said. "Although he was kind of always a rebel."

In his travels, McDaniel's stops have included cities and countries along the Persian Gulf.
"Most everywhere, people have been really nice," he said. "The last time I was in Bahrain, just before I flew home I had a discussion with several of the local men there who were very apologetic about the whole September 11 ordeal. They told me Bin Laden does not support what they believe."
And, in Bahrain, McDaniel also heard anti-United States sentiments.
"One guy said he doesn't agree with America coming in and doing some of the stuff we're doing," McDaniel said. "He wasn't angry or militant about it we just had a discussion. We talked about it for two hours while throwing darts in a bar."
On Sept. 11, 2001, the U.S.S. George Washington was off the coast of South Carolina doing general exercises.
"The morning of the 12th we floated right through New York harbor, as close in as we could," McDaniel said. "Smoke was billowing up out of the city behind the Statue of Liberty."
Aircraft aboard the carrier were launched from the harbor to provide air protection for the city, he said.
"Mayor Guiliani had asked the Navy to pull their ships as close as they could so that everyone in the city could see us and we were the ones that pulled in," McDaniel said.
Starting next week, the self-proclaimed "daredevil" who is fascinated with life at sea and traveling will be working at a shore station near San Diego, maintaining Naval aircraft.
His stay on shore is supposed to last three years. But, considering the possibility of war, that could change, he said.
"I'm not supposed to go out to sea again for another three years," McDaniel said. "Unless for some reason they pull me out to sea again."