Renaissance Festival gives
THS

student new billing
Lately, Joel Nido has been getting a lot of attention both at work, and when he stops at a gasoline station to and from work.
"People seem to laugh," said Nido, who plays the role of Puck at the Renaissance Festival. "There's something about a 5-foot-5 person who's shirtless, wearing a vine across his chest, horns on his head, a furry tail and hoofs that tends to make people laugh."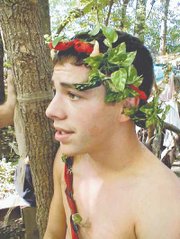 Puck is a character in Shakespeare's play, "A Midsummer Night's Dream, written in about 1595.
Nido describes Puck as "mischief incarnate."
"He was originally supposed to be a warrior, but Oberon the king of the fairies messed up on him so now Puck is just a natural-born walking-talking joke," Nido said. "He is everything that could ever be wrong with anyone, giving people a sense that their lives aren't that bad."
A junior at Tonganoxie High School, Nido takes performing seriously. He has participated in school productions of "Annie," and "The Sound of Music." He sings at Heartland Community Church of the Nazarene, and has been accepted to sing with The Continentals, a traveling Christian singing group. And, Nido sings with the Chieftain Singers and participates in forensics.
He says he's passionate about performing.
"Acting gives me the chance to be things that I could never be in reality," he said.
Everywhere he goes, Nido, who is 17, watches people. He picks up on their most minute traits and saves them in his mind until he finds a role that calls for them.
"I take their personalities and I put them into that character," Nido said. "I mimic little characteristics about that person and blend them into the context of the material that I'm performing. Basically, I show people what they are and a little bit more."
But preparing for the Renaissance Festival takes more than natural acting ability, Nido said. It takes work.
"The Renaissance is an entire summer thing," Nido said.
Preparation includes academy classes that focus on acting theory and technique. Classes, held at a church in Kansas City, Mo., are free for participants. Part of the training includes learning the dialect and language of the 1500s.
"It's a different time period," Nido said. "You can't use certain words because some of our words weren't even thought of yet."
And, once he purchased his costume, which cost a mere $170, compared to some that run for as much as $1,000, Nido appeared in photo shoots for the festival's advertisement. And, of course there were rehearsals. Although Nido takes the work seriously, it's a non-paying job.
"Your first year you don't get paid, unless you get a big role," Nido said. "The second year you'll get paid, depending on what position you might take."
Even with the activities relating to the Renaissance Festival, during the summer and after school, Nido continued his paying job helping with the renovation of Tonganoxie's new bed and breakfast at the former Almeda Hotel.
But the real bread and butter of his life recently has been acting which gives him the chance to see up close and personal, sometimes a little too personal, the reaction of his audience at the Renaissance Festival.
Children like to pull his horns to see if they're real, Nido said.
"The kids don't understand the concept that it is a costume and the costume is attached to me," Nido said.
But he's found a way to keep them at bay.
"I tell the children that I don't bite but if they get too close I might lick them."