Seniors filling some big sneakers
New leaders excited about fresh potential
Tonganoxie had a major turnaround last season when the Chieftains went from 9-24 in 2000 to an 18-16 mark that ended in a 4A sub-state championship match.
But this season, the volleyball squad has five reasons why preparation is slightly different graduated seniors Keri Walker, Aimee Eisman, Nancy Milleret, Cassie Coffin and Andrea Korb.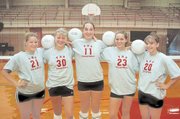 "We've had to step up a lot," said current senior Laura Samuels. "We're just used to them taking charge."
Despite losing an important senior class, the Chieftains have strong returnees, including a new senior class that, along with Samuels, includes Jennifer Reischman, Karley Bennett and 5-9 Vanessa Wardy, a player second-year coach Tiffany Parker has seen substantial improvement in since last year.
Other players thought they were improving as well, thanks in large part to a new summer conditioning program the athletics department implemented with help from the strength coach at Mid-America Nazarene in Olathe.
And despite the extra work, Parker said her team especially seniors had faithful participants.
"They set the precedent this summer," Parker said.
The leadership has transferred from the weight room to the gymnasium, as preseason practice has been productive, although Parker was disappointed after the Red/White scrimmage Friday.
"It's not what it's been in practice," Parker said.
With the Chieftains' season not starting until Sept. 12, THS has some time to fine-tune. And, unlike last year, players come into the season familiar with their coaches and coaches with their players.
"We were going through a lot of the basics last year," Parker said. "This year, we're taking off."
The Chieftains would love to soar through this year's schedule. THS will take on 4A powerhouse in its season opener at home next week, and will also play in its home tournament Sept. 28 that includes 6A opponent Manhattan 5A teams Great Bend and Gardner-Edgerton. Manhattan took fourth at state last year, while Great Bend was third in its class.
Other teams in the tournament are Atchison County, Basehor-Linwood, Piper, Olathe East, Ottawa and Perry-Lecompton.
For Tonganoxie to make it to the 4A state tournament, it will most likely have to bump off Lansing, the team that blocked the Chieftains from a state date in Salina last year.
"We want to beat Lansing," Samuels said. "They've been our rival throughout junior high and high school."
Reischman hopes this season includes wins against Lansing and a trip to state, a place Tonganoxie hasn't been for a few years.
"Tongie hasn't done that for a long time in volleyball," Reischman said.