September 11, 2001: A year later
Two men's views: New York City a year following terroists' attack
For Luke Manson, it was a comment from a stranger that put Sept. 11 into perspective.
Shortly after Sept. 11, Manson, who is a college student in New York City, was working as an usher in a Broadway theater when a woman began talking to him.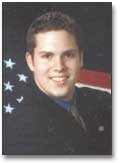 "I told her I came from a small town in Kansas and she said, 'Oh, that must be strange for you,'" Manson said. "I asked her what she meant and she said, 'Well, more people died in a hour here than live in your small town back home.' That was a real big eye opener but it's true I just thought what if everybody I knew, in one hour, were completely gone."
The 19-year-old Manson is a second-year student at the American Musical and Dramatic Academy in New York City. He and another former Tonganoxie resident, Stephen Bishop Seely, 29, who is an actor, were both in NYC on Sept. 11, 2001. Both live on Manhattan Island. Both are tall and slender and have dark hair. Both study and work in the same profession, and both are graduates of Tonganoxie High School. Yet they have never met.
Their stories, as the stories of New Yorkers since the tragedy, are held together by a common thread shock, grief, anger, and now facing the first year anniversary of the disaster, a reluctant acceptance.
Today there is a quiet to New York City that wasn't there in the days following Sept. 11.
"I can still remember having planes flying overhead, helicopters circling the island everywhere," Manson said.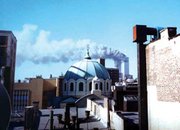 Manson was at school when the jets crashed into the World Trade Center towers. Most of his classmates retreated to their dormitory rooms and apartments. But Manson, and several others stayed in the school, parked by a television.
"There were only five people left in the entire building," Manson said. "We turned on a TV. One of the teachers was crying. She was shaking back and forth saying 'Not in my generation, not in my generation.'"
That night Manson signed up to be a Red Cross volunteer. His job to load supplies for rescue workers onto trucks and clean the rescue vehicles.
Recently, Manson received a thank you note from the Red Cross. Enclosed in the note was a commemorative Sept. 11 pin.
He felt awkward about showing it to a friend who was with him.
"I put it in my bag and we didn't say anything about it," Manson said. "Volunteering is just one of those things that we just did and when it's brought up in a serious way, we don't really deal with it too well."
After the tragedy, Manson purposefully stayed away from the disaster site, which came to be known as "Ground Zero."
"I never had any desire to go look at it or be around it," Manson said. "I didn't want to go gawk at it."
But about six months later when a visiting friend asked him to go there, he did.
But it didn't seem right.
"A policeman who was working there was talking about how disgusting it was that people were gawking at it and coming to see this hole that represents people dying," Manson said.
Since Sept. 11, security continues to be heightened, even at theaters where he works, Manson said.
"The security personnel had to hold my hand, walk me though the theater and tell them I work there," Manson said. "It's kind of a hassle, but it's standard at New York City now.
From apartments to public buildings, there's increased security.
"Now we have to check our bags at the library when we go in," Manson said.
A year later, the feelings resurface from time to time, Manson said.
"It's not like it was and not like I know it will be," Manson said. "On September 11, the city's going to be completely quiet. There will be memorial services at churches, at Times Square and all over the place which is good."
Manson is the son of Tim and Janet Manson, Tonganoxie.
Stephen Seely's perspective
"This week is tough, but I'm doing OK," Stephen Seely said Monday. "I'm doing much better."
On the morning of Sept. 11, 2002, Seely didn't have to watch the news on TV the World Trade Center towers were visible from the roof of his apartment building.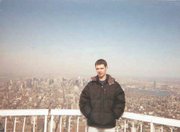 "We saw each tower fall," Seely said.
It was hard at first to correlate the building's fall with the number of people who were inside. From his rooftop he couldn't tell how many had escaped.
The death toll began to sink in around noon, when Seely went outside.
"People started walking up north, because they couldn't take public transportation or use the bridge," Seely said. "Then you saw people covered in dust and you saw people bleeding."
Seely took photographs from the rooftop, and from the sidewalk. There are some pictures so grim that even today he can not bear to look at them.
As time goes on, Seely said, survivors continue to pour out their feelings about that day.
"I met someone three weeks ago who was on the 78th floor of the first tower that was hit," Seely said. "He made it out. He was one of five in his office that did. He definitely has survivor guilt."
This means, Seely said, he's asking why he's still here and his friends and co-workers aren't he's wondering how he was chosen to come out alive.
"Everybody has stories," Seely said. "Which has been very interesting and has made the city closer. It's been a rough year for me and a lot of other people in the aspect of getting over something so tragic."
Like Manson, Seely waited six months to return to Ground Zero, attending a memorial service which honored victims and their families.
Seely has seen New York City suffer as a result of the tragedy. He says the job market is worse, the plunging stock market hurt the economy and there's less tourism.
"When tourism is low in the city, then everything is low," Seely said. "It's a ripple effect."
And, Seely has worked his way out of his personal suffering. He began to improve, he said, after attending the six-month anniversary memorial.
"We went down to Ground Zero. They'd left the lights off and we were with thousands of other people who had known victims and their families," Seely said.
He said he realized that there were others who had lost loved ones, who had been traumatized much worse than he.
"I think I decided then that I needed to move on," Seely said. "I certainly didn't get the worst of it as these people had. Since then I've tried to be stronger for other people who had lost people in the World Trade Center."
Tonight, Seely plans to attend a memorial service in Battery Park. The service will center on a large sculpture of a globe that until a year ago today was displayed between the towers of the World Trade Center.
"They pulled the globe out of the wreckage," Seely said. "They decided they're going to make it a permanent memorial and tonight they're lighting an eternal flame next to the globe sculpture."
The memorials and the services are important, he said.
"Everybody has to heal some way one way is to pay a tribute," Seely said. "But I think a lot of people in this city think that shouldn't be a day for any type of commercialization, it should be a day of remembering."
Seely is the son of Harold and Joan Seely, Tonganoxie.