A grand day
Grandparents visit Tonganoxie Elementary School
Jo Ann Poterbin has put in at least 12 visits to Tonganoxie Elementary School's grandparents' days.
She started with grandson Caleb Poterbin, who's now a senior in high school. This year, she spent Friday morning in two classrooms, with Bobbi Jo Kissinger, who is in the second grade, and with Zeke Kissinger, who is in the first grade.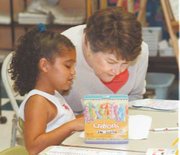 "I think it's very important," Poterbin said. "I kind of feel sorry when some of the children's grandparents live out of state and can't come. It's fun."
Sylvia Webb, who lives in Arlington, Texas, happened to be in the area to celebrate the birthdays of her grown children when grandparents' day came along. So, she spent the morning at elementary school with her great-great-granddaughters, Holley Thompson, a second-grade student, and Allison, a first-grader.
"Oh, I sure am glad I came at this time," Webb said. "I wish I could be with them all the time."
Holley gave her great-great-grandmother a big squeeze around the waist.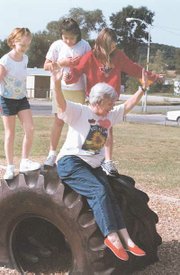 "Isn't that cute," Webb said. "She's such a little cutie pie."
As children and some grandparents jumped rope together in the gymnasium, Homer and Mary Jo McKinstry watched their grandson, second-grader Tanner Hazelton.
The day before they had attended school with their granddaughter, Charlie Hazelton, a kindergarten student.
Both grandparents said they thought the relationship between grandparents and grandchildren was important.
"These kids need somebody else in this day and age," Mary Jo McKinstry said. "Everything's happening right now and these kids need all the support they can get."
In the hallway outside Karen Sivits sixth-grade classroom, grandparents read poems written about them by their grandchildren.
Crystal Sheaffer titled hers "Grandpa Sheaffer Who," and told about what she and her grandfather do together.
Crystal used her own name in the poem, writing that her grandfather, Ken Sheaffer, has hair "as white as ice crystals in the winter." And she described his height as "tall as a cotton tree swaying in the wind."
Other children were eager to share their poems with their grandparents, and with the newspaper.
Jerry Daskoski, elementary school principal, said last year, because school security was heightened after Sept. 11, was the only year an official tally has been made of the number of guests on grandparents' day.
"We had close to 400 that signed in," Daskoski said, noting that some of the grandparents visit grandchildren in more than one classroom. He estimated that about 400 attended again this year.
The day means extra planning for the school. Teachers plan special events for 8 a.m. until 10:30 a.m. The night before grandparents' day the janitorial staff delivers an estimated 400 chairs to the classrooms. And on that morning, the school's 80 employees parked at West Haven Baptist Church and rode a school bus to school so grandparents could park near the school.
Daskoski looks forward to this day every year.
"I love it!" Daskoski said. "It definitely is one of my favorite days of the year."
Daskoski said he particularly enjoys greeting grandparents and showing them to the classrooms, and seeing the students when a grandmother or grandfather walks into their room.
"The kids' eyes just always light up every time when grandma or grandpa is there," Daskoski said. "They're just so excited to have them come. It doesn't make any difference if it's sixth grade or kindergarten.