Lights, camera, action!
Technology class members launch daily newscasts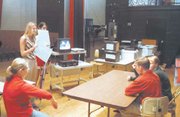 At 11:30 a.m., David Walker's classroom fills with students trying to go three directions at once.
Some students stay in the classroom to work on editing and Web pages, while others decide what they'll film during the class period. And yet another group prepares to head for the high school auditorium to film its newscast.
After a few minutes, though, the chaos subsides. Students determine what they're supposed to do for the class, and they then disperse.
The class is media technology and students are involved in daily newscasts that go out to all televisions in the high school. The students are also making links on Tonganoxie school district's Web site.
With the class stretched throughout the lunch period, students take shifts in three 30-minute slots throughout the class.
The scene is sometimes hectic, but Walker said students stay busy.
"They're pretty self-sufficient," Walker said. "They're like 6-year-olds. They entertain themselves."
Getting on the air
Although Walker is primarily a biology teacher, his interest in technology has spurred the creation of the technology class.
Previously, he served duty with other teachers during the lunch period. But now, he's supervising newscasts and Web pages during the mealtime.
"I've always kind of had an interest in technology," Walker said. "The last couple of years I've been finding out what we have and what we don't have."
When school began in August, so did the media technology class.
And with the group of 11 students, the Chieftain News Channel was born. On the Web side, students are also working on links within the school district's site: www. tong464.k12.ks.us.
Good Morning, THS
The most popular portion of the class is its daily newscast.
With a black curtain as its backdrop, the newscast is taped on the THS auditorium stage. After editing, the short broadcast is shot to monitors in all high school classrooms. The newscast consists of school announcements and clips of activities, usually from the night before.
Originally, the segment was broadcast during an afternoon period, but starting this week it's being shown in the morning.
Usually, seven people are required to produce the segment each day two anchors, two cue card holders, an editor and Walker's student teacher, Hilarie Raleigh.
The channel, now about a month old, has been going pretty well. And, as senior Tommy Powell said, nerves are starting to calm in front of the camera most of the time.
"It's not so much stage fright as hysteria and mass confusion," Powell said.
For Raleigh, a recent University of Kansas graduate, the newscast is an ambitious endeavor. It's certainly a change from any media class she had at her alma mater of Little River.
"We were just hoping to get our yearbook on digital," Raleigh said.
For CNC, though, the production has been a reality. With the use of small dry erase boards as cue cards, a camcorder, TV monitor and anchors, the program is available daily at the school.
Occasionally the team also gets some help from its technology-savvy instructor.
"Sometimes when he's feeling nice he writes them (cue cards) up for us," senior Tara Gurss said.
Getting the kinks out
Although students have gained some experience, the course is still a work in progress.
As students rotate to different duties, the class has to adapt to the transitions.
"Every week two new people are on it," senior Beth Knetter said about the network's anchors. "It takes some time."
The segment isn't always a go on its first run, but senior Lara Samuels said that's usually the best.
"We don't practice, we just go the first time," Samuels said. "That's what makes it good."
Students have tried to add flavor to their telecasts. Junior Shane Howard caught a ball during a sports segment once, while Powell got up during a taping to grab some difficult-to-read cue cards. Last week, while taping programs for Friday and Monday on Friday, Gurss and Powell picked on each other for wearing the "same clothes" two days in a row.
Another segment was tabbed Man Day because girls in the class had extra-curricular activities on that occasion.
"That wasn't very good," Samuels said.
But Raleigh, who has one more week to student teach in Tonganoxie, said the class is an ongoing learning experience.
"We've had some crashes in the background," Raleigh said. "We've had people talking, we've had everything."
More technical
Walker said he plans to keep adding new resources to his newest class.
Newscasts will eventually be taped in Walker's classroom. Television lights have been installed from the ceiling and junior Joey Templeton is painting a backdrop for the newscasts.
"It's been going well," Templeton said. "It just takes a while."
Eventually, Walker also hopes to have dual cameras for newscasts, along with clip-on microphones. Class members are gathering footage from athletic events for team highlight videos after the season. The group also is constructing a recruiting tape for an athlete that will be sent to college coaches.
Although all media technology students probably won't pursue media careers, Samuels, who would like to major in photojournalism, said the students seem to enjoy the course a great deal.
"It's a cool class," she said. "It's really exciting."