Tonganoxie runners shines at Rim Rock Farm Classic
The Rim Rock High School Cross Country Classic on Saturday was supposed to be similar to a state meet.
Tonganoxie High enjoyed the practice run.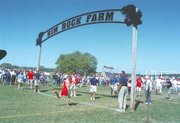 The boys' team finished first out of 20 teams in the major event, scoring 65 points, 33 points ahead of Skutt Catholic (Omaha, Neb.) in the Blue Division.
"I think that's the best effort I've seen in some years," THS coach Phil Williams said.
The top finish was the highest the Chieftains ever had at the invitational. Tonganoxie took third two years ago, and then eighth last year in one large race.
Last year, the meet was scheduled for the weekend after the Sept. 11 attack. The University of Kansas, which helped sponsor the event, was postponing all of its events just after Sept. 11. Lawrence High and Lawrence-Free State continued with the high school competition, but only one race was conducted.
This year, the event was broken down into three levels blue, crimson and gold. Tonganoxie competed in the lowest division, while Baldwin, the four-time defending state 4A champion, placed 17th in the Gold Division, the event's top race.
Tonganoxie, meanwhile, was paced by Kyle Norris. The senior took fourth out of 108 runners with a time of 17:39 in the blue division. Norris said the first mile and a half was going pretty well, but the course became tougher in the second half.
"Their hills are bigger than what we train on," Norris said.
The senior, however, credited Williams with using a difficult training scheme to prepare for various courses.
Tommy Powell took sixth with a 17:51 time, while Tony Aligo finished 13th with a time of 18:08. Corey Brest was the team's other medallist, taking 20th with an 18:39 time.
Andy Kolman (33rd, 19:15), Levi Huseman (43rd, 19:34) and Matt Chenoweth (70th, 20:40) also placed for the Chieftains.
Huseman might have finished higher, but a faster start led to difficulty at the race's end. After stopping and then walking in the course's final feet, Huseman was treated for dehydration. Both Huseman and Norris were treated with IVs after the race.
Mill Valley junior Jay Matlack won the 5K event with a 17:10 time.