New batch of Chieftain seniors faces hefty softball schedule
The Tonganoxie High softball team was two runs away from a second-place finish in the perennially difficult Kaw Valley League last year.
The Chieftains went 13-7 two seasons ago and 12-9 last year, but Tonganoxie lost three key seniors -- all-area and all-Kaw Valley League selection Kim Newton, along with Andrea Korb and Sarah Subelka. Korb was second-team all-KVL, while Subelka made honorable mention all-KVL.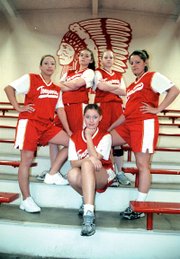 A tough class to fill, but junior pitcher Katie Jeannin returns, as do seniors Laura Korb, Jessica Simpson, Laura Samuels, Karley Bennett and Janelle McCoy.
Jeannin was second-team all-league, while Korb made honorable mention.
"The girls fielding-wise are coming along," THS coach Mark Mall said. "They've made a lot of improvement.
"Hitting is probably the biggest thing yet we are improving on, but we lost probably our top three players last year."
Tonganoxie will have new leadership and more players without much varsity experience against a schedule that likely will be challenging again.
Last year, three of Tonganoxie's opponents were in the top four at the state tournament. Santa Fe Trail took fourth, Piper placed second and Topeka-Hayden, which knocked THS out of regionals, won its third state crown in four years.
Mall expects Piper, last year's KVL champs, to threaten again, but he said the conference has some balance.
The league will beef up even more with Bonner Springs coming into the KVL this spring.
"Adding Bonner just makes our league harder," Mall said.
Tonganoxie opens the season Thursday in Meriden against Jeff West and Atchison. The doubleheader against JWHS is set for 5:30 p.m., while the Atchison doubleheader should begin around 7 p.m.