Their three sons
Tonganoxie couple try to keep track of sons in Navy
Diane McWilliams spends any spare time she has with eyes glued to a television or fingers striking keys on a computer keyboard.
McWilliams, though, isn't wasting her free time on a sitcom or a computer game.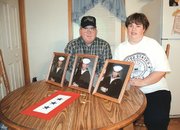 Instead, the mother of four is keeping tabs on a son making his way to Iraq.
"It's been very nerve-racking," McWilliams said. "I've been watching the news and hoping they wouldn't go, but Keith is over there."
Diane McWilliams refers to her son, Keith, who is 21 and is enlisted in the Navy. The 1999 Tonganoxie High School graduate is making his way toward Iraq on the USS Nimitz.
"Every day we come home we get on the Internet and check on the computer to see his e-mail," Diane said. "I feel relieved knowing he's talking to us every day."
Diane has two other reasons to be concerned about military action -- sons Sean and Ryan, who also are in the Navy. Diane and her husband, Greg, however, feel more content with their whereabouts -- Sean is in San Diego and Ryan is in Chicago.
Despite concern for their sons' safety, Greg and Diane proudly wear Navy memorabilia and tell stories of their sons' accomplishments.
The recent family tradition has included an extensive resume for the McWilliams brothers.
Sean, 23, already spent time in the Middle East. Because of an embargo on Iraq, he was near the Middle Eastern country about a month before Sept. 11, 2001, policing oil smugglers. He also was aboard a battleship near Afghanistan during Operation Enduring Freedom after the terrorist attacks.
A petty officer second class electrician with the Navy, Sean earned National Achievement Medals for his work regulating oil smugglers. He earned another for a recovery assignment at Port Hueneme, Calif., after Alaskan Airlines Flight 261 crashed in January 2000.
Through his journeys, Sean also has been spotted on television. Greg located his son on the news during the plane crash cleanup in California. An even bigger claim to fame, by Hollywood standards, was an appearance as an extra on the CBS drama "Jag."
The McWilliams had a copy of the episode, which included a back shot of Sean doing maintenance on a ship. An officer in the movie actually says "McWilliams" while barking orders, but Greg said Sean's reply was a voiceover because of union regulations.
"You're a rescuer, an actor and a warrior all in your career," Greg told Sean.
Ryan, meanwhile, is just beginning his Naval duty with radar and computer education at boot camp in Chicago.
The 18-year-old just graduated from Tonganoxie High last May.
As their parents describe it, the brothers had their own distinct reasons for joining the Navy. Sean sought adventure, Keith wanted money for college and Ryan wanted to follow in his brothers' footsteps.
Now Keith, who eventually wants to join the ROTC and attend college at Notre Dame, likely will have the most important adventure of all the siblings in the coming months.
A petty officer second class in nuclear engineering, Keith already was stationed near Norfolk, Va., awaiting any other potential attacks after Sept. 11.
Keith, along with the rest of the family, visited Sean near Los Angeles just before New Year's Day 2000. Greg said the family did some sightseeing and caught the Rose Bowl Parade.
During that time, a terrorist coming from Canada through Washington State had a car bomb with a destination of Los Angeles International Airport. The objective was to detonate the bomb at the airport as a terrorist way of ringing in the New Year.
Luckily, officials detected the bomb in Washington and the plan was foiled.
Keith left on a Delta Airlines flight on Jan. 1.
"We're just little old people from Tonganoxie and we were almost in a terrorist attack there," Greg said.
Greg and Diane have one other child -- Michelle, a junior at THS. They're unsure whether she too will join the military, but the family already has a strong bloodline in the academy.
Along with the three brothers, a great-grandfather served on a destroyer during World War I. Greg and Diane, along with grandparents Mary Barncord and John McWilliams, are proud that the tradition has found a new era.
Greg thought about joining when he was 18 and had the option of the military. It was 1973 and President Nixon had stopped the draft.
"The military wasn't the best place," Greg said.
Now 30 years later, Greg's sons have joined voluntarily.
The McWilliams will continue to watch war coverage as the conflict wears on. Diane said she feels slightly safer with her son away from the ground combat, but is also concerned about Keith being in the Persian Gulf.
On television, she sees dolphins being used as detectors for mines, which brings that home for the worried mother.
In an upstairs window at their house, Greg and Diane have a service star banner, its three blue stars signifying how many family members are in the military.
With one of those stars symbolizing a son nearing Iraq, the McWilliams use the Internet as a comforting voice.
"There's no way we can call him on his ship," Diane said. "He e-mails and we e-mail him quite frequently."