Tie a yellow ribbon
Tonganoxie shows support for members of military
It is a cloudy wind-driven Friday morning in Tonganoxie.
During a lull at Paul's Barbershop, Paul Bray and a customer sit and chat. Near them, a TV hums as broadcasters churn continual updates on the war in Iraq.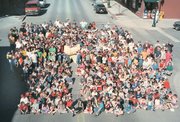 Just outside, a yellow ribbon tied to a railing flaps in the gusty air. Bray said he can't take credit for putting the ribbon up, but he's glad it's there.
At one point he quips that the ribbon is one way of protesting those who are protesting the war. But seriously, he said, it makes him think of the thousands of men and women -- including his son, Jarrod Bray, a naval officer stationed in Japan, who serve in the armed forces.
For Bray and his wife, Judy, and for dozens of other Tonganoxie residents, the yellow ribbons are more than a nostalgic reminder of a 1973 hit.
"Tony Orlando had a good idea when he made the song," Bray said. "But I think it's got a lot of meaning to it. I think they're over there for a good cause -- we've got to support them."
In good company
A quick look at Fourth Street proves the Brays are in good company. Several dozen yellow ribbons deck the downtown trees. Florists have had repeated requests for yellow ribbons, and Don Pelzl, owner of Pelzl's Do It Best store, said when he ran out of yellow ribbon and called to order more, his supplier was out of it, too.
Some of the yellow ribbons represent specific loved ones who are serving in the military, which means of course that the war in Iraq is hitting closer to home than most of us might have thought.
At Tonganoxie Elementary School, students and teachers have set up a wall to honor those in the service. Yellow ribbons deck each picture. So far there are 29 pictures on the wall. Not all of them are from Tonganoxie, but it's likely a close look would reveal familiar names.
Just two doors down from Bray's Barbershop, a ribbon flaps in front of Farm Bureau Insurance. For agent Robin Jones, that ribbon could represent an older brother -- 50-year-old Danny Jones, scheduled to depart for Kuwait this week.
Ironically, Jones, who has been in the Army National Guard for more than 20 years, is looking forward to going. Danny Jones is squad leader for Jeremy Goebel, Tonganoxie Elementary School's physical education teacher who was looking forward to completing his National Guard duty last month. But instead, Goebel was called into active duty.
Robin Jones said his brother wanted to be called into active duty.
"But he didn't think he would be able to go because of his age."
Danny and his wife, Sherrie, who live in Kansas City, Kan., have four grown children. One son, Matt Jones, lives in Tonganoxie.
Robin Jones said he has mixed emotions.
"Because he's going to be in harm's way, obviously," Jones said. "But I feel it's something that needed to be done because of the way the people are being treated by their own leaders."
Comforting ribbons
And across the street, Barbara Larison, who works at Village Floral, is missing her son-in-law, Lt. Col. Johnny Bullington, stationed in Kuwait.
In fact it was Larison who decided to put the first yellow ribbon on Fourth Street last Wednesday. She also has ribbons in front of her home, and her children have ribbons in front of their homes. In addition, she sent ribbons to Brenda Bullington, her daughter in New Jersey who talks to her military husband on the phone nearly every day.
Larison said her son-in-law, who works in army intelligence, can't talk about what's going on in Iraq.
"He just calls back and says he's OK," Larison said.
Unlike Bray, who can't get too much of the television news broadcasts of the war, Larison shies away from watching televised updates.
But like Bray, she's disturbed by those who are protesting the war.
"I don't like it," Larison said. "If they were in those other people's shoes (the Iraqis), they would see what the American troops are trying to do for them."
In contrast, it's comforting to see the yellow ribbons.
"I just feel they're all very supportive," Larison said. "It just reminds you of all of them over there."