So long, city hall
Longtime Tonganoxie employee will miss 'the people part' after she retires
During more than 30 years, Karen Daniels has watched people come and go from city hall -- 40 city council members and six mayors, including the current council.
But this week, it is the longtime municipal court clerk who is heading out the door at 321 Delaware St.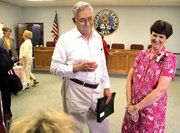 Today is Daniels final day as a city employee. She is retiring from her position after 30 years and four months.
"The thing I will miss the most is the people part," Daniels said.
Daniels embarked on her lengthy tenure with the city on Jan. 2, 1973, in the current city hall.
Before that, Daniels worked at Mutual Savings from 1966 to August 1972, but elected to resign from Mutual and stay at home with her sons.
"I just left a nice job and thought I was going to stay at home," Daniels said. "Not one of them in my family liked mom working on Saturday."
While Daniels worked at Mutual, the city contracted with the institution to do water bills each month.
After she left Mutual, though, Daniels received a call from then-council member Wayne Finch about possibly being the city's municipal court clerk and deputy city clerk. Previously, Harriet Hughes worked out of her home as the city's clerk.
Other council members Russ Kimberlin, George Flowers, Andy Johnson and Art Hancock and Mayor Lee Mark completed the first elected city officials Daniels worked with.
When Daniels came aboard, she worked from 9 a.m. to noon and 1 p.m. to 4 p.m. Mondays through Fridays, which allowed her to be with her family on Saturdays. That was something Daniels wasn't always able to do at Mutual Savings.
City hall at that time primarily was used for city council meetings, Boy Scouts meetings and voting. It had a wooden floor, high ceilings, a hanging furnace and no air conditioning. When Daniels arrived, a makeshift desk was installed.
With children growing up and soon participating in sports, Daniels made sure she was at their games, even if she had to leave the office a smidge early on certain days.
"If one of our boys had a game, I would just put a sign on the door and go," Daniels said. "My family was definitely my priority."
As time passed, so did the faces of city hall. Daniels, who became the city clerk about two years ago, has seen the staff grow and more offices constructed. A 1993 renovation helped the cramped city hall take on more area. Council chambers and a conference room were created to the south of city hall.
Now, city hall has six staff members. When Daniels leaves, Kathy Bard will assume Daniels' duties, something that doesn't worry the outgoing clerk.
"I'm really comfortable with the training that's taken place in the last six months," Daniels said. "I'm confident that no one will notice the change."
Bard, however, said the staff definitely will notice Daniels' absence.
"I'm going to miss her terribly," Bard said. "I have a feeling we're not going to know what's in her head until after she walks out the door and somebody comes in and asks a question."
In Bard's mind, Daniels is a walking almanac. If anyone needs assistance locating a residence, the longtime resident usually could direct people to a house flawlessly.
When Daniels leaves, Mary Conway will be city hall's most native daughter. A lifetime resident, Conway is quite familiar with the community as well, but said it's hard to compare her knowledge with Daniels'.
"It's going to be hard to fill those shoes," Conway said.
City hall is filled with computers containing pieces upon pieces of information about the city, but Daniels hasn't had that luxury through her entire career. Sometimes a pen or a typewriter was Daniels' most important tool.
"She used to hand-do the water bills," Bard said. "If I had to hand type a thousand water bills, I think I'd look for another job. But that's just the generation gap."
Barb Bennett, who has worked at city hall for about seven years, said that fellow employees have depended on Daniels for many things that a person just can't be trained for.
"We told her she has to get one of those red phones like the president has, but she's not going to," Bennett said.
If employees do decide to give Daniels a ring, they likely won't catch her under the weather. In three decades, Daniels used about five sick days, Bennett said.
With retirement starting Thursday, Daniels said she has "no grandiose plans" for life after city hall. A longtime member of PEO and the Tonganoxie Christian Church, Daniels also has been involved with the Kansas Association of Court Management. She served in various roles for the organization, most notably on the group's board of trustees and later as the KACM secretary.
Now those duties are complete, Daniels said she wants to get involved again as a Hospice volunteer.
"I haven't done anything in that realm for some time," Daniels said. "I thoroughly enjoy an association with people. I feel like doing something with people in such need."
Daniels wants to do some traveling with her husband, Bob, who also is retired. Karen said she and Bob, a McLouth native, are thinking about moving within two years to Elk City, where Karen grew up and where their son Robert and his wife and their 10-year-old son live.
Although she said she has no major plans, it appears Daniels will stay busy in retirement.
"I can't imagine that I can spend all of my time playing bridge and cleaning my house," Daniels said.