Neither rain, nor sleet, nor snow, nor hail
THS

spirit squad supports teams as members strive to shake idea that cheering is not a 'real sport'
Tonganoxie High School cheerleaders are, in the words of their sponsor, unsung heroes.
"Who's there in the rain? Who's at the games every time?" said Sandy Saultz, who is in her third year as a cheerleading sponsor.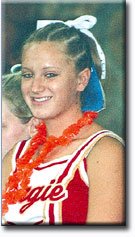 Convincing people that cheerleading is a sport is a tough assignment, Saultz said. But the 11 members of this year's squad need no convincing.
This summer, cheerleaders have set their alarm clocks so they can rise with the birds and arrive each day at the THS multipurpose center by 6:30 a.m.
"We sleep in our practice clothes and then come to practice," said Tara Kemp, a senior who is co-captain of the squad. "We have to. Otherwise, we wouldn't be able to make it."
At practice, Kemp said, the young women usually stretch for 30 minutes or so.
"We usually jump right into doing our jumps or working on our cheers and trying to clean them up a little," she said.
The last few weeks, the squad has focused during its 90-minute practice on routines for next Wednesday's Leavenworth County Fair Parade.
Once school starts, the cheerleaders will gather for practice every day after school, from 3:30 p.m. to 5 p.m., except on game days. And they'll lead cheering at all home games for football, cross country, soccer, wrestling and basketball -- and Friday night football and basketball games that are on the road. That usually means at least two events each week, plus practice.
"We do pretty much everything but track and baseball," said senior Karla Holton, this year's team captain.
For Saultz and the other two sponsors -- Louise Holton and Merri Samuels -- the time investment is substantial.
"The girls are great," Saultz said. "It's a lot of work, a lot of time, but they're worth it. It's non-stop. A lot of people don't realize how much time they spend."
This summer, the cheerleaders attended a camp at Tan-Tar-A resort at the Lake of the Ozarks. There, the girls learned new routines.
And one of them -- junior Ashlee Murphy -- qualified as an All-American. That means, Murphy explained, that she can travel to several venues throughout the United States and participate in competitive cheerleading.
Murphy, who is 15, doubts she'll take advantage of the honor because she already participates in two other sports, softball and volleyball, and that cuts into her time.
"I can't cheer for football because volleyball practice is at the same time that cheerleading practice is," she said.
Like several other members of the squad, Murphy doesn't believe that Tonganoxie cheerleaders receive the respect they deserve. But she does believe Holton, as captain, will keep the squad cheering at games more often than in the past.
"At games, sometimes people make fun of us because our captain doesn't call a cheer," she said. "But we will have a more active year with this captain."
Murphy said the lack of support from other students actually motivated her to try out for the squad.
"No one really appreciates the sport," she said. "Someone has to step up and do something to make our reputation better. ... Some squads, their whole school recognizes them. But that's the least of our school's worries."
While Murphy plays volleyball and softball, Holton squeezes cheerleading in between school and work at Jeffries Farm and Home Supply Center in Bonner Springs.
But Holton, who is in her third year on the THS squad, said she receives a huge return on her time investment.
"It's a neat feeling whenever you go out there and you're facing the crowd and they're all looking at you," Holton said. "And it's like you're leading other little girls in the stands."
Holton remembers when she was younger.
"I loved going to the games, just to watch them," she said of the cheerleaders. "I went to all of the little cheerleading camps they had. I always wanted to do this."
For those young girls who are enthralled with the idea of becoming a cheerleader, Holton suggests they go to camps.
"It gives you a better idea of what goes on," she said. "And keep trying, because you'll make it some day when you get older. I'm glad I became a cheerleader because I've had so many wonderful experiences."
Holton said she'd like to continue cheerleading at college, where she plans to major in physical therapy.
"But I'm not sure I'll be able to do that," she said.
The determining factors will be the amount of time required and the level of competition she faces.
At times, the physical demands of cheerleading can seem overwhelming, Holton said.
"There are days you don't want to get up and go do it," she said. "It just takes that dedication."
Like Holton, Kemp has cheered since junior high. And like Holton, it was a longtime dream.
"Ever since I was a little girl, it was always one of those things I wanted to do," Kemp said.
She believes that a major benefit of her membership on the squad is the camaraderie she finds with the other girls.
"All of the girls are really great," she said. "We get along. Of course, we have our fights, just like a big group of girls would. We have a really good squad this year. We haven't had too many problems, just the normal things."
As co-captain, Kemp is happy to work with younger members of the squad.
"I really enjoy spending time with the girls on the court," she said. "We really work together. I love performing with them. We'll work on a routine really hard and the day we perform it, you really get a rush from it. It's really fun to accomplish a goal you set for yourself."
Kemp agreed with Murphy's concerns about the squad's status at THS.
"Cheerleading always has been on the back end of things," she said. "I don't think people realize how time consuming and how physically hard it is. It's not as hard as football or soccer, but it's a different kind of physical work.
"It is considered a sport to any cheerleader you ask."