Baby wins national contest
Not many 8-month-old boys have a dozen trophies to their name.
But Brandon Thomas Jr. does.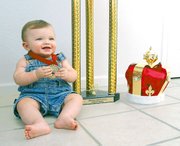 On the weekend of Aug. 1-3, little Brandon, and his parents, Sarah and Brandon, went to Chicago, where after three days of not-so-grueling competition, Brandon Jr. was crowned the national winner of the New Star Discovery Most Beautiful Baby Contest.
Today, area residents will have a chance to see the young lad in person as he, and his mother, ride in a convertible in the Leavenworth County Fair parade.
For winning the national title, Brandon received not only a six-foot-tall trophy and a red velvet crown, but also a $1,000 savings bond and a $200 gift certificate to Toys R Us.
The Thomas family moved to Tonganoxie in June. Sarah, who works for a De Soto insurance company, is a 2001 graduate of Basehor-Linwood High School. Brandon, who works as a fire sprinkler fitter, graduated from the Kansas City, Kan., Washington High School in 2000.
Ever since he was born, Brandon has been the perfect child, his parents said.
"From the third night when we brought him home, he has pretty much slept all night," Sarah said. "We are very lucky. He always seems to be happy. If he's fussy, you know that something's wrong with him."
The road to fame started early, said Brandon's father, who while driving to work first heard about a baby contest that was going to be held at Bannister Mall. He called Sarah.
The rest is history.
"There were probably about 40 kids there, and Brandon won first place," Sarah said.
That's when she learned the pageant at the mall led to a state and national competition.
Brandon's regional win advanced him to the Missouri competition, which in May was held in Springfield.
There, Brandon was named second runner up in the main category. He received a trophy and medallion for being the first place winner in product and sports wear. For his showing in the sweetest smile and western wear competitions, Brandon was first runner up. In the angel face, play wear and portrait categories, he was third runner up. And, Brandon received a trophy for selling three advertising pages.
The costs for the family have been minimal, Sarah said. The $20 entry fee to the regional pageant also paid for the entry to the state pageant. And, his winnings on the state level paid for his entry fee to nationals.
The Thomases didn't enter with the idea of promoting their son to national competition. Sarah recalled a comment she made before state: "I said whatever we do at state, we're done," Sarah said. "But he did so well there, we just decided to go on."
However much work the competition is for the adults, the children themselves, who range in age from infants to 6 years, get it easy. Various competitions are set two hours apart, giving time for snacks and naps in between.
Sarah voiced hearty approval of the pageant's "natural look" policy.
"They do not allow makeup," Sarah said. "They stress that they are looking for the natural child."
And, Sarah said, judges' scores are based 50 percent on looks and 50 percent on personality.
Although some parents brought their children with a carload of props, the Thomases only brought Brandon's required clothing.
His contest outfits were homemade, sewn by Sarah's stepmother. The exception was a tuxedo, which was donated by the mall where Brandon first won the pageant.
Brandon's win means he will be registered with a top Chicago talent agent. Past winners of the competition have landed spots on television commercials, something Sarah and Brandon would be willing to consider for their son.
All in all, the experience has been interesting for the family.
"We met a ton of people and Brandon will never remember it, but the memories we have for him -- we have tapes, we have pictures," Sarah said. "And then, who knows, this may be a big opportunity. Someone might call tomorrow."