Christmas came early this year for Scott Ward, who is home on leave from Kuwait.
Scott and his family held their annual holiday get-together Saturday at the Veterans of Foreign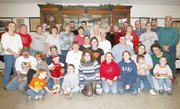 Wars post home in Tonganoxie.
"We usually do this on New Year's," said Scott's father, Scott Ward, who lives near Basehor. "We wanted to get it to where he and Chad could both be here."
Chad Fitzpatrick, a relative of Scott's, will head to Iraq in January. He and Scott were special guests at Saturday's gathering.
As Scott visited with dozens of relatives, and helped the youngsters open their gifts, he had a smile on his face.
After all, it was good to be home again. And then, there's nothing like good old American food.
"I can't wait to get back to Kuwait and see Chris and tell him there's good food at home, buddy," Scott said.
Scott, and two other Tonganoxie men -- Chris Brest and Jimmy Thorne -- are stationed in Kuwait. Ironically, all three are 1998 graduates of Tonganoxie High School. They signed on with the reserves at different times, but all were called to active duty together.
At the airport in Kuwait, Scott works on the computer system, ordering parts for trucks. Chris drives the trucks, which haul heavy equipment, into Iraq. And Jimmy, a mechanic, travels with the convoys so he can repair the trucks.
Chris will be coming back to Tonganoxie on leave later this month. Like Scott, it's likely he'll appreciate more than ever the home cooking.
"The food over there is horrible," Scott said. "They've got people cooking for us, but they can't cook."
Scott laughs when he talks about the military meals.
"They try and cook American food, but they can't. We have hamburgers, French fries and hotdogs every day at lunch," Scott said.
After a few days, he said, the food all looks the same.
"I'll ask the cook, did you use last night's food to make this? They say, oh no, no. And I say, are you sure?"
Constant concern
And then there's the monotony of living on base. So far, Scott has spent about eight months in Kuwait. During most of that time, he, and those he's with, have been confined to their base area.
"Everybody says I feel like a prisoner," Scott said with a wry smile, "I say well, at least prisoners know their release date."
Although he's able to laugh about the food, as well as the boredom, there's a serious side to Scott.
During an interview last week, he expressed concern for his friends who were traveling in convoys through Iraq. It's difficult being this far from them, he said.
"I worry about everybody that's over there," Scott said. "When I'm over there if something happens, at least I'll be able to do something for them. When I'm there, it's not as bad as while I'm here."
Online studies from Kuwait
Scott signed on with the reserves before he started his senior year of high school.
He said he figured that was as good a way as any to finance a college education. But after five years, he remains far from graduating.
"I've got so much school left it's not even funny," Scott said. "I've already missed five semesters of school because of the Army."
And, he said, there were a couple of semesters early on where he didn't apply himself.
To help make up for lost time, Scott plans next semester to take a couple of online college courses -- while he is stationed in Kuwait. Eventually, he said, he'd like to become an athletic trainer, or a coach.
When asked if he was looking forward to taking his online courses, Scott smiled and said: "I'm looking forward to doing something besides just sitting around."
In Kuwait, Scott works eight to 10 hours a day, seven days a week. His motor pool office is located in a box trailer. In the evenings, he joins the others who live in his tent. For entertainment, they watch videos.
Because of their lengthy stay, the men have tried to make their living conditions as homey as possible. They long ago stopped using army cots and instead, constructed makeshift beds out of plywood topped with thin mattresses.
Uncertain future
In Kuwait, the reception from local citizens has been warm, Scott said.
"The people in Kuwait love us," Scott said. "We went to pick up parts in Kuwait City one day -- they were driving down the road honking at us."
Unfortunately, he said, that's not necessarily the way it is in Iraq.
"I just hope that they accept that we came in there and did what we did for their good," Scott said. "They understand that we're there to help them out, but they want their country back. The feeling in Iraq is that they just don't want us there anymore. We did what we told them we were going to do and they just want us to leave."
But Scott said he didn't know if that would work.
"I just want to see them keep any of Saddam's old people out of the government," Scott said. "That just opens it up for what already happened to happen again."
No place like home
Early next week, Scott will head back to Kuwait. He anticipates that he, as well as Brest and Thorne, will be in the Middle East until May.
Until then, his trip home will remain one of the highlights of his year.
Scott recalled his excitement as he flew home in late November.
"It was green," Scott said. "We were flying over and I was sitting in the aisle seat trying to look out all the windows, saying there's water, and it's green down there."
When the Kansas boy arrived in Kuwait last April, the desert was a shock.
"For about the first two months, I couldn't believe I was there," Scott said. "I guess I'm used to it now."
And after all these months, how does he feel about his base camp in Kuwait?
"It's not home," Scott said. "But it's a second home