New stop loss order means young father heading to Iraq
Chad Fitzpatrick's military work takes him where nobody wants to go.
His specialty is landmine warfare.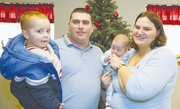 "We go out and we search for landmines," Fitzpatrick said.
When soldiers find the mines, they blow them up. And, in hazardous areas, they put up barriers to keep troops out of harm's way.
Fitzpatrick was one of two young military men celebrating an early Christmas at a large family gathering in Tonganoxie on Saturday. One of the men, Scott Ward, will leave Sunday to return to Kuwait. And in early January, Fitzpatrick will be deployed to Iraq.
It's a bitter pill for Fitzpatrick and his wife, Christy. Until recently, he was lined up to serve 18 months in Korea, starting in January. And after that, Fitzpatrick had thought he then would be stationed in Germany, where Christy and their two sons would join him.
But a mid-November announcement of the army's stop loss means Fitzpatrick will first have to serve eight months in Iraq and then three months at Fort Riley, before his 18-month tour in Korea.
A stop loss is a program that allows the service to temporarily halt separations and retirement during times of war, deployments or national emergency.
Christy, who is the granddaughter of J.B. and Nona Smith of Tonganoxie, said the news of the stop loss hit her hard.
"I think I cried for three hours straight," Christy said.
She cried for her children, Jackson, who is 3 months old, and Jacob, who is almost 3 years old.
"It's hard knowing I'll have to explain to Jacob why Daddy's gone and why he can't see him," Christy said.
Even Chad Fitzpatrick, who enlisted in the army in 1993 at the age of 17, and re-enlisted in 1997 and 2003, was upset.
"I don't think that the chief of staff realizes that the stop loss that they put in not only affects the soldiers, but the families too, who are waiting for their sons and daughters or husbands and wives, to come home," Fitzpatrick said.
The couple's seven-year marriage has been wrought with challenge.
A daughter, Jordyn, was born in March 1998. A year later, while the family was living in Germany, physicians diagnosed Jordyn with leukemia. The family moved to the United States for medical treatment, but Jordyn died 14 months later. She is buried in Holton, Christy's hometown.
Christy agonizes about the situation in Iraq.
"The war's not over," she said. "On paper it is, but in reality it's not. Almost every day there is somebody else killed."
She said that 77 soldiers died in Iraq in November, the largest count since the war ended. And 17 soldiers from Fort Riley have died in Iraq.
Even while worrying about American service men and women, Christy also expressed sympathy for Iraqi citizens.
"They say there are innocent Iraqi people getting killed, too," Christy said. "They probably live in fear too, like the military wives do -- of getting that phone call, or of seeing the chaplain on the doorstep."
And then, with the thought of her daughter's death still fresh on her mind, Christy's eyes welled with tears. She hugged her infant son who was sleeping on her shoulder, looked over at her husband, and said softly: "I've already buried a daughter. I don't want to bury a husband, too."