New season provides clean slate for boys
Mulligans don't exist in basketball as they do in golf.
The term, which basically is a "do-over" on the greens, isn't available on the hardwood where Tonganoxie had to play through a difficult year.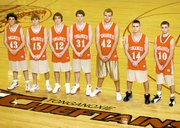 THS endured a season now in the record books that saw the Chieftains finish 4-17. Tonganoxie was at 4-5 early in the season before a 12-game losing streak spoiled last season's campaign.
That was a year after the Chieftains claimed their first winning season in 10 years and were one game away from a state tournament berth.
Now the Chieftains will take another crack at the regular season and a shot at that elusive tournament.
With seven seniors and eight juniors, Tonganoxie could make a run.
"We've got a bunch of hard workers right now," THS coach David Walker said. "I think our focus is a little better and I think our intensity is a little more."
Back are varsity regulars and seniors Shane Howard, Justin Walker, Billy Baska and Luke McCarty. Howard averaged eight points per game, Walker six, McCarty four and Baska three. Walker and McCarty also averaged four rebounds apiece.
Fellow seniors Derek Sparks and Ben Brest also saw playing time. Juniors are Kirk Rodell, Levi Huseman, Sam Mitchell, Robert Kirch, Matt Chenoweth, Daniel Workman, Mike Morris and Eddie Lester.
Under Walker, the Chieftains have been a running team, which again should be the case. This year's team, however, will have some height. Morris pushes 6-5, while senior Ben Brest is at 6-4 and senior Dustan Sprowls is 6-3.
But with the height comes overall inexperience, something Walker said might be a weakness. Although Brest has seen some varsity playing time, Morris returns after a year away from basketball and Sprowls is in his first year on the high school squad.
That's not an issue with Howard, who said the team has to get back in the swing of the win column.
"I feel like we've got good experience," Howard said. "Now all we need to worry about is confidence."
And with a new season come newfound enthusiasm, according to Sparks.
"I think there's more intensity and I think we're getting a lot better as a team," Sparks said.
Howard and Sparks expect Mill Valley and Piper to be contenders this season, while Walker said Immaculata always has tradition on its side and Bonner Springs can't be counted out.
Tonganoxie opened the season Tuesday with the Central Heights Invitational. The tournament will provide new opponents to a schedule filled with the regular Kaw Valley League teams.
But for Walker, who coached at nearby Williamsburg, it will be a slight reunion.
"It's kind of interesting -- we're playing Central Heights first and that's where my wife worked for 10 years," Walker said, referring to wife, Sue, who is the Tonganoxie assistant girls basketball coach. "I'm going down to a familiar area but there are some different teams to play."
The tournament will feature many teams in the Ottawa and Garnett areas, including Chanute, which made the 4A state semifinals last year.
"A lot of the teams down there are teams with a lot of tradition and coaches with state experience," Walker said. "It will be a fun, intense tournament."
A Tonganoxie team preaching intensity hopes the week-long tournament is a springboard for this season.
"Last year we took a step backward," Howard said. "This year it seems like we're understanding the offense a little better."