Centennial celebration
Wright brothers maintained Kansas connection
It's common knowledge that the Wright brothers made their first flight 100 years ago today.
But it's a lesser-known fact that the famous brothers had close ties to Tonganoxie and Lawrence.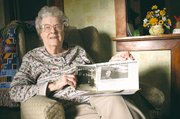 In fact, a great-niece of the Wright Brothers, Margaret (Steeper) Brown, who is an alumna of McLouth High School, is attending the celebration today in Kitty Hawk, N.C.
Margaret has lived in California for decades.
But her Kansas roots began in Tonganoxie.
At the dawn of the 20th century, while the Wright brothers were making aeronautical history at Kitty Hawk, their oldest brother and Margaret Brown's grandfather, Reuchlin Wright, was farming the Kansas soil, just east of Tonganoxie.
Reuchlin (pronounced roosh-lynn) and his family lived in the Tonganoxie area from the 1901 through the early part of the 1900s.
On Oct. 8, 1919, when Reuchlin's daughter, Ellwyn, married Harold Steeper in a triple wedding ceremony in McLouth, the guests included Orville Wright and his sister, Kathryn Wright, both of Dayton, Ohio.
Local historian Connie Putthoff has helped The Mirror gather information on the Reuchlin Wright family. According to the May 4, 1911, Tonganoxie Mirror, Mr. and Mrs. Reuchlin Wright (Lulu Billheimer) were the guests of honor at a surprise 25th wedding anniversary party. The couple were married in 1886 in Dayton, Ohio. About 25 of their neighbors dropped in to celebrate. The article states that at the time of the anniversary party, the Wrights lived three miles east of Tonganoxie. To celebrate their anniversary, Reuchlin gave his wife "a chest full of silver."
The couples married in the triple wedding ceremony were:
Ellwyn, who then lived in Kansas City, Mo., who married Harold William Steeper of McLouth.
Irene May Steeper who married Dr. Frank Schaeffer, both of McLouth.
Gladys Lucile Steeper who married Robert Roos, both of McLouth.
Harold, Irene and Gladys were siblings.
"Mr. Orville Wright, of Dayton, Ohio, inventor of the flying machine, was present at his niece's wedding."
His brother, Wilbur Wright, had died seven years earlier, in 1912.
One area resident, Louise (Bradford) Gilbert, who lives in McLouth, has a personal recollection of the 1919 wedding. As a cousin of Harold, Irene and Gladys, Gilbert was a member of the wedding party.
"I was in the triple wedding," Gilbert said. "I was 5. I carried the ring for Irene Steeper."
The pianist for the silver wedding was Herbert Wright, Ellwyn's brother who had spent his early childhood years in Tonganoxie.
The wedding was held at the United Brethren Church, which until several years ago served as the home of the Nazarene Church.
Not everything went as planned, recalled the 89-year-old Gilbert.
"My sister was 3. She was supposed to be the flower girl, but it turned out she wouldn't do it," Gilbert said.
According to an article from the Oct. 17, 1919, Oskaloosa Independent, a wedding reception was held at the Steeper's home on Union Street. After the reception, "the wedded couples left by auto for Lawrence to take the train for a wedding trip together," the story continued.
In its own way, the bungalow in which Lucille Gilbert has lived for more than half a century carries a bit of history. It is the house, now moved to the north edge of McLouth, in which Ellwyn and Harold Steeper lived. It originally was built where Bartlett's Fried Chicken and Catering is today.
"Back in the 1930s, they moved the house to this location here," Gilbert said of her home on Gertrude Street.
Gilbert recalled that Harold and Ellwyn Steeper later lived in Lawrence. Their daughter, Margaret Steeper, had graduated from McLouth High School, and their son, Charles Harold Steeper, would later graduate from high school in Lawrence.
In 1946, when Ellwyn's daughter, Margaret, was married at the First Methodist Church in Lawrence, Orville Wright returned to Kansas to attend her wedding.
By then, his sister, Kathryn, had died, as had his brother Reuchlin, who died in 1920, apparently while living in Kansas City, Mo.
In the late 1940s, Harold and Ellwyn Steeper moved to Claremont, Calif., where their children lived.
After Orville Wright died in 1948, Harold Steeper served as a co-administrator of Orville Wright's estate. Ellwyn, who had been born Christmas Day in 1896, died April 30, 1977.
She and her husband, Harold, who died Sept. 15, 1979, were both buried in the McLouth Cemetery.
Their daughter, Margaret, now Margaret Brown, lives in Claremont, Calif. Today, she and her husband, Bob Brown, are in Kitty Hawk, attending the 100th anniversary celebration of the Wright Brothers first flight.
A news brief in the Oct. 23, 1919, Tonganoxie Mirror mentioned the McLouth weddings, as well the name of the famous guest: