Life with 'The Small Side'
Miniature horses provide plenty of fodder for cartoon ideas
Just in time for Christmas, "The Small Side" is hot off the press.
The book, a collection of cartoons about miniature horses and their owners, was illustrated and written by Jarbalo resident Jody Chenoweth.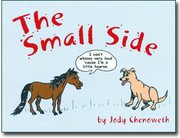 About 10 years ago, Chenoweth compiled a collection of cartoons and published them in a book at Tonganoxie's Legal Printing.
She gave copies of the books to family and friends.
One of the books made its way to SmallHorse Press, a Zanesville, Ohio, publishing company.
About two months ago, she received a call from SmallHorse's publisher, Bob Leland.
"He said his wife was reading my old cartoon book and she was laughing so loud, so he thought why don't we update it and republish it," Chenoweth said.
Leland asked her if she could draw 20 additional cartoons to get the book on the market before Christmas.
Fortunately, Jody, who'd been pretty much housebound for a couple of months -- first from a broken ankle and then from a case of shingles -- was prepared and had the time to do it.
"I keep a list of ideas," Jody said. "I had them written, but I didn't have them drawn up yet."
The work went fast.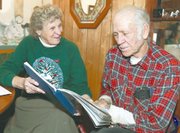 "It's not that hard to really do them when I sit down to do it," she said.
And, since sending those cartoons off, she's already come up with about 20 more ideas.
Collecting her thoughts
Jody, a 70-something-woman, seems younger than she is. Dressed in a long skirt, boots and holiday sweater topped with a jacket, she made her way to the barn on a recent morning to show off her dozen or so miniature horses.
She cuddles the horses that come up to nuzzle her, then stands in silence as she watches them run in the pasture. It's evident by the smile on her face that even then, in the midst of a busy day, she's thinking about her next project. It could be another cartoon, or it could be a poem, a short story or even lyrics to a song.
Jody's been writing all her life. She grew up in a family of newspaper people. Her grandmother owned a newspaper in Oklahoma. Her father and brothers worked at the Kansas City Star.
It's important, she said, to have a pen and paper handy to write down her thoughts.
"If you don't write it down, it's gone," she said.
And, it helps, she said, that she has a hard time sleeping at night. Jody said she usually only sleeps about five hours. This is when she gets some of her ideas.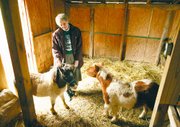 "One night I just thought wouldn't it be funny if you hung a giant flystrip over the barnyard and all the horses get caught," Jody said.
And sure enough, on page 37 of her book is a cartoon showing three miniature horses that have their tails or hooves stuck in a flytrap that's suspended over the barnyard.
The cartoon's caption shows a woman telling her husband, "I told you ya wasn't hangin' it high enough!"
In due time
When Jody was in high school, she thought she had no talent at drawing.
"When I would try to draw, it didn't look real, it looked like cartoons," Jody said. "I got real frustrated, but my art teacher said someday you'll be glad you can draw cartoons. And finally, after 50 years, I am."
Her husband of 55 years agrees.
"The way I look at it is it's a work of art to be able to do cartoons," Fred Chenoweth said.
And, Fred said, he has personally enjoyed his wife's artistic endeavors. He holds a card Jody made for their silver anniversary.
"She's made me a lot of nice little cards like that over the years," he said.
And, Jody has always made the family's Christmas cards and birthday cards.
As a teenager, Jody planned to study at the Kansas City Art Institute.
But instead, just weeks after high school graduation, she and Fred decided to marry. Jody stayed home through most of this time, raising the couple's four children.
In the 1980s, Jody and Fred bought five miniature mares and a stallion and began raising and showing miniature horses.
Steeped in atmosphere
A woodstove, complete with a red enamel teapot, takes up one corner in the living room of the Chenoweths' house east of Jarbalo where they've lived since 1961. Southwestern area rugs, and designs of horses galloping across one wall and wise old owls perched above a door give the room a warm touch.
In the kitchen, wallpaper that looks like the inside walls of a log cabin almost makes visitors feel as if they've stepped across the border into Colorado.
But next to the kitchen is the ultimate in modern conveniences -- a home office complete with two computers -- one for Fred and the other for Jody.
A friend to technology, Jody's computer is complete with a drawing tablet, so she can enter her designs directly into the computer.
Included in Jody's creations is a book about the weather that Jody plans to send to a television weatherman in Kansas City.
She's illustrating a children's book written by her younger sister, Susy Ross, who lives in Tonganoxie. Jody has written short stories. And, she has won poetry writing contests, as well as awards for her country music lyrics.
She reads and memorizes works by other poets, including Sylvia Path, Robert Browning and William Cullen Bryant. Each night, Jody said, she recites to herself at least 15 poems she's memorized.
Up and running
As the years go by, Jody's energy seems to be increasing, said Fred.
"She couldn't keep up with me when I was a young guy, but now it's kind of in reverse," Fred said. "I'm getting to be older and slower, but we have a lot of fun -- I wouldn't change her for the world, and that's a fact."
Jody's energy, creativity and love of life have been good for him, Fred said.
"She's made my life better," Fred said. "A lot of men fight that and they make it ugly. But women -- the way I look at it -- they brighten your life."
Jody, modest about her accomplishments, shrugs and looks away shyly.
"It's just silly stuff, but it's fun," Jody said, smiling. "It gives you something to do to keep up and running."