Incompatibility blocks family offers to donate kidneys
When Mary Ann Allen learned she would need a new kidney, three relatives -- Allen's daughter and two grandchildren -- stepped up to donate.
All three had blood types compatible with Allen's. But unfortunately for Allen, none of them could donate.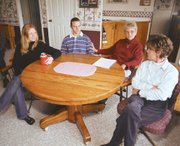 "I have some very strong antibodies in my blood," Allen said. "In the first work they did between my blood and my daughter's blood, my antibodies attacked hers which meant my body would reject the organ."
The same thing happened when her grandchildren were tested as possible donors.
Allen does not yet require renal dialysis. Dialysis is a medical procedure undergone routinely by patients who have kidney failure. Dialysis filters the blood, removing harmful chemicals that healthy kidneys would remove.
Allen, who is 73, believes her kidneys may have been damaged by anti-inflammatory medications taken for her arthritis. Since August, the Tonganoxie woman has been on the transplant list at Research Midwest Transplant Institute, Kansas City, Mo. She estimates that unless she finds a suitable living donor, her wait will be about 2 1/2 years. If a living donor is found, Allen said, Medicare will pay the donor's expenses relating to testing and removal of a kidney.
Mary Ann and her husband, Gene, have two children. Their son, Dale Allen, didn't match his mother's type O blood. But their daughter, Teri Ellis, did.
So as soon as she learned her mother needed a kidney, Teri volunteered.
"We just thought it would be so simple," Teri said.
When Teri didn't work as a donor, Mary Ann's granddaughter, Jeni Ellis, volunteered. Her type A blood would be compatible with her grandmother's type O.
"But Grandma didn't like my blood either," Jeni said.
"As soon as I found out Mom's wouldn't work, I called and made an appointment," Jeni said. "It didn't occur to me to be nervous or concerned about it."
But Jeni, who is 22 and a student at St. Luke's College nursing school in Kansas City, Mo., soon learned she wouldn't work as a donor. Next to step up was Kirt Allen, 20, who works at an Olathe warehouse.
"As soon as I heard, I said I was going to give a kidney," Kirt said.
But he too, received the same news as his aunt and cousin -- although his blood was compatible with Mary Ann's, tests indicated that her body would reject his kidney.
For now, as Mary Ann counts the months until it's likely her kidneys will completely shut down, she wonders if she'll eventually receive a cadaver transplant. She's still holding onto hope someone might be willing to donate a kidney.
"We'd better get the word out and see if we have very kind stranger out there," Mary Ann said.