Students share animals at celebration
Early Friday morning, Tonganoxie FFA members loaded up their livestock and headed to the fort.
Fort Leavenworth, that is, for the annual Kansas Day celebration at Eisenhower Elementary School.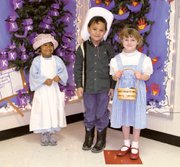 Tonganoxie FFA members who participated in the Kansas Day event include: Josh Olsen, Chester Henre, Lynsey Janssen, Megan Lawrence, Katie Yunghans, Chad DeGraeve, Raymond Sproul, Travis Starcher and Kylie Ritchey.
There, just a stone's throw away from spinning wheels, soap making, broom making, quilting and Civil War re-enactors -- to name just a few participants -- the THS students taught the children about farm animals.
The docile livestock included a horse, sheep, goat, piglets, calf and chickens -- some borrowed, some owned -- all brought and shown by Tonganoxie High School FFA members.
Debbie Sack, Eisenhower school counselor for 12 years, said the Kansas Day celebration may be a learning experience for Kansans, but it's even more educational for military children who may only live a short time in Kansas.
About 50 percent of the students at Eisenhower move out of the area each year, Sack said. So she decided to find a way to give the students a strong, positive and lasting impression of the Sunflower State.
For second-grader Dalton Muchow, it wasn't his first closer encounter with livestock. After all, when he lived in Korea he had been to petting zoos. But Dalton said it's likely these animals live in a more rural setting.
"I bet they play in a lot of mud -- except they look clean now," Dalton said.
Nearby, Sam Sheaks petted a rabbit held by Katie Yunghans. The rabbit, named Sprinkles, was pretty, Sam said.
"It's fuzzy and warm and it likes carrots and so do I," the youngster added.
The children spent time with all the animals, reaching to pet Gus, a 9-year-old quarterhorse buckskin owned by Lynsey Janssen's family for five or six years.
Gus is a great communicator, Lynsey said.
"Peppermints are his favorite treat," Lynsey said. "Ask him if he wants one and crinkle the wrapper and he shakes his head yes," Lynsey said.
Megan Lawrence and her mother, Dyla Lawrence, brought a mother sheep and her 2-week-old black lamb. Megan is FFA president.
The THS students burst out in laughter after Megan recounted a comment made by a youngster:
"One of the boys looked at the black sheep and said, 'I've got one of those in my family.'"
The Kansas Day event takes up most of a school day for FFA members, who planned to exhibit their animals until 11:30 a.m. FFA secretary Josh Olsen said he and Chester Henre left home at 7:30 in the morning with two piglets and a rabbit, as well as fencing and animal feed. Participating in the Kansas Day event is a tradition for the FFA, Olsen said.
"This is my third year up here," he added.
The event included story telling, singing and dozens of historical and crafts booths, as well as a demonstration by Jarbalo custom saddle maker and leather carving teacher Bill Gomer. The celebration culminated a month of Kansas studies which began by reading books. For every book read, students wrote their name and the book's title on a paper yellow brick and taped it to the floor as part of the school's Yellow Brick Road.
Sack said it's important to know a state's history.
"This is my 12th year here," she said. "When I came here, I said what do we do for Kansas Day and they said, 'What's Kansas Day?'"