Wrestlers fifth at Baldwin Invitational
He didn't know it at the time, but Saturday's Baldwin Invitational basically was Jeremy Goebel's state tournament.
A member of the Army National Guard, the Tonganoxie High wrestling coach was informed last Saturday evening that he had one week to report for military duty.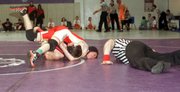 Tonganoxie finished in fifth place at the meet with a 174-point effort. No. 5 Abilene took first with 354, while Lansing was second with 300.5. No. 9 Baldwin managed a third-place finish with 286.5 points and Marysville was fourth with 261.5.
"A couple of rounds were tough and we were pinned a lot, which kind of discouraged me," Goebel said. "But we came back."
Tonganoxie's first-year coach, however, likely won't be back for the remainder of the season. He was scheduled to finish his military obligation in March, but that now has changed.
Scott Underwood will still be the team's assistant coach, but Dean Moss will take over interim duties for Goebel.
"I told them, 'I'm going to do the best I can,'" Goebel said. "'I'm still your coach, just not physically.'"
Goebel did witness some of his wrestlers triumph one last time this season.
Ross Starcher won his first tournament title since the Sabetha tournament Dec. 14. Garrett Palmer, Aaron Adcox and James Hartshorn all had second-place finishes, while Andrew Miller took fifth. Other finishers were Hunter Samuels, Shawn Everhart, Brad Nickel, all with seventh-places; Jerry Hartshorn, eighth, and Alan Athon, ninth place.
Tonganoxie competes in its final dual of the season Thursday in Shawnee at Mill Valley. The postseason begins after that with the Kaw Valley League tournament Feb. 15 in Piper. The 4A regional tournament is Feb. 21-22 in Hoyt, while state is Feb. 28-March 1 in Wichita.
Goebel will have to rely on mail or the telephone for updates on those competitions.
"I'm going to miss everyone in this town," Goebel said. "Especially the wrestlers."