Coach returns as
THS

takes fifth
Jeremy Goebel just couldn't stay away.
After saying so long to his players two weeks ago, the Tonganoxie coach was back on a mat corner instructing his wrestlers at the Kaw Valley League tournament Saturday in Piper.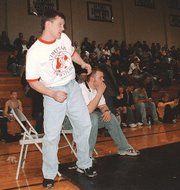 Goebel, who recently was called up in the Army National Guard, was working through weekend activities at his Olathe base when he found out his group would be getting out early Saturday.
Goebel promptly headed for the meet wearing his fatigues. He then traded his military attire for a Chieftain wrestling T-shirt and jeans. Goebel was back in a familiar spot.
"Teaching and coaching is what I love to do," Goebel. "There are a lot of emotions I'm going through."
A few of those feelings could be found on the sideline. Goebel was back to barking instructions and using some body English in hopes of helping his players.
It didn't seem to hurt.
Tonganoxie had seven wrestlers make the top 4 in their respective categories. The Chieftains finished fifth with 108.5 points as Santa Fe Trail scored 196 for its sixth straight KVL crown.
The Chieftains had three fourth-place finishes, two third-placers and two gold-medal winners, but Tonganoxie had to wait until the last to bring on their best.
Seniors James Hartshorn and Andrew Miller reached the championships in the final two weight classes -- 215 and 275 -- respectively.
Hartshorn squeaked by Santa Fe Trail's Dustin DeWitt, 6-5, while Miller struck within the first 10 seconds of his match and recorded a pin against Bonner Springs' Brad Rittinghouse. Miller shook hands and then pumped a fist in the air after nabbing a league title, which Miller rated as major.
"This league meet is much bigger to me," Miller said, comparing it to some other large tournaments this year. "You go against these guys all year long."
Hartshorn defeated DeWitt, 7-2, earlier in the year, but had his hands full at this year's league meet. The senior won his second consecutive league title.
"It was a lot harder this year," Hartshorn said.
With Goebel back with a surprise visit, Hartshorn said he thought that helped the Chieftains.
"It probably gave me a little bit of motivation when he came back for league," Hartshorn said.
The Chieftains also responded in the final round with third-place finishes from Ross Starcher (29-5) in the 135 division and Matt Weyer (19-11) in the 171 class. Earning fourth-place finishes were Hunter Samuels (21-13) in 112, Garrett Palmer (25-12) in the 130 and Aaron Adcox (17-10) in the 189 weight class.
On Friday, Tonganoxie travels to Royal Valley for day one of regionals. The tournament concludes Saturday.
Although he won't be there, Goebel has confidence in his team, especially in Hartshorn and Miller.
"Ever since the second half of the season started they have taken that senior leadership on," Goebel said. "They have a great mindset and focus."
Tonganoxie will compete against Atchison, Maur Hill, Basehor-Linwood, Hiawatha, Holton, Royal Valley (Hoyt), Bishop Ward, Piper, Lansing, Marysville, Jeff West, Perry-Lecompton, Mill Valley and Wamego at regionals. The top four finishers in each class will advance to state Feb. 28 and March 1 in Wichita.