Sluggish second half thwarts girls team
Randy Kraft was disappointed in his team's performance Dec. 11 at Piper, but his Chieftains still managed a 47-43 victory against the Pirates.
On Friday, Tonganoxie wasn't as fortunate. The Chieftains carried a four-point lead into the second half against Mill Valley, but the Jaguars stormed back for a 55-46 win.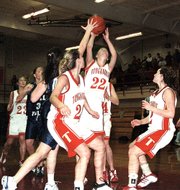 "We didn't play with the intensity we needed to," Kraft said.
Tonganoxie padded its lead to 10 late in the first half thanks to a pressing defense that forced a string of Jaguar miscues. Mill Valley, though, notched a three-point shot and made three free throws just before the half and trailed 27-23 at the intermission.
An 8-1 run midway through the third helped the Jaguars build their own lead. At the end of three, they had a 41-35 lead.
Tonganoxie cut the lead to four at 41-37 early in the fourth, but that would be the closest the Chieftains would get to Mill Valley. The Jags used an 8-0 run, putting the game out of reach.
Neither team was spectacular from the free-throw line. Tonganoxie made 14-of-25 shots, while Mill Valley made 10-of-26 attempts.
Kraft was more concerned with other lapses the team made throughout the game.
"There were a lot of points in the game when we didn't play well, especially defense," Kraft said.
The Chieftains now must wrap up the season on the road. After a home game against Perry-Lecompton Tuesday, Tonganoxie finishes out the regular season Friday at Lansing, Tuesday at Immaculata and Feb. 28 at Bonner Springs.
Box score
Mill Valley 55, Tonganoxie 46
Mill Valley 9 14 18 14 -- 55
Tonganoxie 11 16 10 9 -- 46
Mill Valley -- Jessica Velasquez, 8, Megan Niemann 8, Jessica Duncan 2, Heather Woolever 4, Kara Huschover 2, Diana Brown 9, Kendra Corley 12, Kelly Hiltner 10.
Tonganoxie -- Michelle McWilliams 4, Addie Heim 13, Laura Korb 2, Madison Weller 8, Katie Jeannin 6, Kelly Breuer 8, Jennifer Reischman 3, Sarah Holliday 2.