Courting the state
Tonganoxie firm hopes to fill portion of state workers' perscription needs
A Tonganoxie pharmaceutical firm could see some major growth, if a plan that's just in the beginning stages pans out.
Right Choice Pharmacy contracts with pharmacies, insurance companies and large employers to provide prescription medications with patient counseling. The firm's now eyeing the state of Kansas in hopes of contracting to replace the mail-order part of the prescription drug plan used by state employees and their dependents.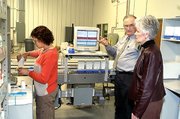 On Friday, Kansas Insurance Commissioner Sandy Praeger toured Right Choice's 10,000-square-foot facility in Urban Hess Business Park.
After the tour, Praeger said she thought Right Choice might be a good fit for the state. Currently the state contracts its employee mail-order prescription benefits with a Texas firm, AdvancePCS.
"If you can show how you can save money and provide good service, then I think the state would be interested -- and it's a Kansas business to boot," Praeger said.
Expanding client base
Praeger estimated a state contract could add a total of 80,000 state employees and their dependents to Right Choice's client base.
Those numbers, or the volume of their prescriptions, would lower the cost of prescriptions, said Kent Richardson, Right Choice president.
"The whole idea is that Right Choice Pharmacy would fill prescriptions, as many as we could, and get the cost down as low as we can," Richardson said. "We would work off a 9 percent margin and share anything above that with the state. The state volume would allow us to buy better. It would be a big contract, that's for sure."
The firm, which has a business office in Council Grove, opened its automated central-filling facility in Tonganoxie in October 2001. The operation is closely monitored, with four pharmacists checking every prescription before it goes out the door.
Pharmacies that contract with Right Choice agree to provide patient counseling with each prescription filled. To receive Right Choice medicines, patients need to sign on with a participating pharmacy, and they agree to have all their prescriptions transferred to that pharmacy.
Next-day delivery
To be able to cover customers' needs, Right Choice currently keeps on hand between 1,200 and 1,400 prescription drugs. Prescriptions are filled the day they come in and the medicines are delivered the next day to customers within a 300-mile-radius.
In replacing the mail order firm's business, Right Choice would accept state employees' prescriptions through their local pharmacies, and would deliver the medication to the pharmacies by the next day.
Currently, about 160 Kansas pharmacies contract with Right Choice. "Any pharmacy can join our network that has access to our internet site," said Kent Richardson, president.
One of the Kansas pharmacies affiliated with Right Choice is Holst Pharmacy in Tonganoxie.
Gary Holst, owner, started working with Right Choice, both at Holst, and at Great Plains Compounding Center, Shawnee, more than a year ago.
Right Choice helps smaller pharmacies such as his compete with larger ones, Holst said.
"Right Choice, by virtue of their buying power, sometimes can buy things at a better price than we can buy them," Holst said. "It can save you, as a customer, money."
Another benefit to the smaller pharmacies is that when customers have a prescription plan in which the pharmacy doesn't participate, it's likely that Right Choice, which is a licensed Kansas pharmacist, does.
And, Holst said, his business benefits from having a pharmacy in Tonganoxie, where delivery of prescription medication is a mere drive across town, which means his customers can have same-day service. Right Choice guarantees next-day service across a 300-mile radius. The company offers a two-day delivery to South Carolina, and a three-day delivery west of the Rockies.
"The unique part of what we've done is we've made it possible for every pharmacy in the world, essentially, to work with us as long as they can access our complete pharmacy program on the internet," Richardson said.
Holst said he hopes Right Choice can garner a state contract, a move, he said, that would keep more money in Kansas.
"The state has been using an out-of-state mail order company," Holst said.
It would make more sense, he said, for state employees to be able buy their medicine through a Kansas firm.
"Right Choice takes it one step further by working with local pharmacies to try to keep the business right here in town, which is a tremendous benefit for the pharmacy and the patient," said Holst, who has owned the Tonganoxie pharmacy since 1990.
Jim Evans, Right Choice general manager, said the firm, which currently has 16 employees, is poised for growth.
"The company has the capacity to triple the volume in the existing facility by increasing staff and inventory," Evans said.
Connie Aldrich, Right Choice vice president, said the prescription-filling center is operating as it should.
"We've been waiting until the system is perfected before trying to grow," Aldrich said. "You only get one chance to prove you are good."