Girls fend off Lansing scare
Randy Kraft's girls basketball squad was on a roll Friday against Lansing.
Tonganoxie bolted to a 16-5 lead after the first quarter and then extended the margin to 29-16 at halftime. Sophomore Addie Heim played a major role, contributing 11 of her eventual 20 for the night.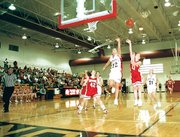 But after a long halftime, complete with senior ceremonies and dance team activities, Tonganoxie had to fend off a determined Lansing rally.
THS had a 35-20 lead midway through the third, but the Lions staged an 8-1 heading into the final quarter.
Tonganoxie's lead wavered between eight and 10 points until Lansing cut the margin to six at 41-35 with four minutes remaining in the game. The lead then disappeared, as Lansing used a 6-0 run and tied the game at 41. The Lions would tie the game two more times, but never took the lead. A key shot from Sarah Holliday and Madison Weller's game winner preserved the 47-45 win for Tonganoxie and gave the Chieftains their first winning streak since the Immaculata Tournament in late January. Tonganoxie is now 10-8 on the season.
"I could have had a little less drama," Kraft said with a chuckle. "We really had a nice rhythm in the first half offensively and on the defensive end."
Kraft's biggest concern has been free throws. In most close games this year, free throw woes have been the deciding factor in many losses.
But on Friday, free throws were the decisive points for Tonganoxie -- the Chieftains were 7-for-13, compared to Lansing's 9-for-17.
At 10-8, Tonganoxie can end the regular season with a winning record, but the Chieftains finish the season with the top teams in both the large and small school Kaw Valley League divisions. THS plays Friday at Bonner Springs (12-5 overall and 9-1 in the KVL) in the season finale after the Chieftains played Immaculata on Tuesday in Leavenworth. That game didn't make The Mirror's deadline, but the contest was a rematch of major early-season win for Tonganoxie.
The game snapped a long Tonganoxie losing streak to Immaculata and was the Raiders lone league loss of the season. Immaculata was 14-3 overall and 9-1 in the KVL heading into Tuesday's game.
Kraft said Sunday it would be a difficult game.
"I look for a pretty good battle," Kraft said. "I'm sure they've got a little revenge going on."
Box scores
TONGANOXIE 47, LANSING 45
Tonganoxie 16 13 7 11 -- 47
Lansing 5 11 12 17 -- 45
Tonganoxie (10-8) -- Michelle McWilliams 2, Addie Heim 20, Laura Korb 2, Madison Weller 7, Katie Jeannin 2, Kelly Breuer 6, Jennifer Reischman 4, Sarah Holliday 4. Totals 20 7-13 47.
Lansing (8-11) -- Emily Goodlin 3, Lisa Rohan 2, Kendra Sickinger 0, Nicole Parent 12, Megan Warner 8, Kelli Craig 16, Gretchen Willcott 0, Jessica Lift 0, DiSalvo 4. Totals 17 9-17 45.
Three-point goals -- DiSalvo, Warner.
TONGANOXIE 56, PERRY-LECOMPTON 47
Perry-Lecompton 7 6 14 20 -- 47
Tonganoxie 10 12 15 19 -- 56
Perry-Lecompton -- Brandy Jones 2, Shannon Wilson 28, Casey Amerine 3, Haley Wilson 10, Megan Blosser 2, Jamie Amerine 2.
Tonganoxie -- Michelle McWilliams 6, Addie Heim 17, Laura Korb 2, Madison Weller 6, Katie Jeannin 13, Kelly Breuer 4, Jennifer Reischman 4, Sarah Holliday 4.