Band sweeps up at Liberty Bowl
It's likely that freshman band member Paige Robinson will long remember her first trip to a bowl game.
Like other members of Tonganoxie's Marching Chieftains, Robinson said the parade was the highlight of the five-day trip to the Liberty Bowl in Memphis, Tenn.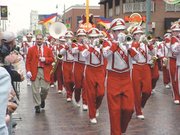 "I loved the parade, we did so awesome," Robinson said. "Something must have been in the air because we were as close to perfect as we've ever been."
Band members said they could tell the crowd loved them as they marched the parade route.
"When we were marching, everyone was yelling," Robinson said. "It was like there was an aura around us -- it was like we were in an invisible bubble."
Tyler Davidson, a junior who plays the trumpet, also said the parade was the best part.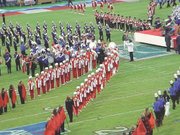 "We felt really in step and we were playing well all the way through," Davidson said.
Davidson, who also went on the band trip to the Dallas Cotton Bowl two years ago, said this trip was even better than the first.
"Because we did better," he said.
Jeremiah Ferris said the trip was perfect.
"We just did the best we ever did and we came out winning it," Ferris said. "It was the best trip I've ever had."
Recalling the trip's victories, Ferris shot his right fist in the air as he shouted band director Charles VanMiddlesworth's trademark phrase: "Yeah band!"
These students and adults made the trip to the Liberty Bowl in Memphis, Tenn.:
Students Heather Melchior, Lance Thompson, Lindsay Davidson, Chester Henre, Laura Graveman, Mike Henre, Linsey High, Jeremiah Ferris, Caleb Pettengill, Laura Jeannin, Rhett Clark, Rachel Bouza, Spencer Davidson, Maggie Gratney, Joe Park, Katie Jeannin, Chase Nowak, Shawn Slawson, Luke Brown, Steven Lundberg, Justin Davidson, Jeff Gibbens, Tyler Davidson, Jeff Everhart, Andy Koontz, Marsha Cox, Michael Stephenson, Amanda Elliot, Levi Huseman, Kezia Huseman, Britain Stites, Megan Holton, Heather Harrison, Stephanie Downs, Elizabeth Higbee, Amanda Bixby, Paige Robinson, Erin Malone, Katie Long, Corey Brest, Becca Boelling, Robert Windler, Tabitha Flaherty, Jacob Ferris, Katy Phillips, Nick Dietrich, Shawna Berry, Phil George, Alan Bauerly, Zack Pistora, Dustan Sprowls, Tyler Truesdell, B.T. Fleming, Eli Jones, Shawn Everhart, Becky Fish, Laurie Earlenbaugh, Katherine Rich and Katharina Wilson.
Directors Charles Van Middlesworth, director of bands, Joyce Steeby, director of choirs and assistant director of bands, and Dusty Arnold, color guard instructor.
Chaperones Phil Clark, Betty Clark, Bob Koontz, Nancy Henre, Mike Henre, Dianne Dyer- nurse, Roy Steeby, Dusty Arnold, Gordon Brest, Lois Coke and Kristan Van Middlesworth. Richard Riedel drove the band's equipment truck.
When band members learned they had won sweepstakes in the competition, junior Luke Brown said, the surprise was evident.
"We were very shocked," Brown said. "You could tell as soon as they said Tonganoxie won everyone's jaw dropped. It's one of the biggest things Tonganoxie has competed in and won."
The band hauled home four trophies and five plaques, but that's not all of its winnings, said Heather Melchior.
"We have another trophy coming in the mail because we tied with somebody else," Melchior said.
Melchior said the parade was only one of the band's shining moments.
"Besides the awards ceremony, there was the field show," she said. "There were three bands there and every one of them had a completely different style."
Tonganoxie, as well as a band from Maryland and a band from Oklahoma, qualified for the field show competition.
Peggy Pistora, mother of freshman band member Zach Pistora, was one of many band parents who couldn't make the trip. But Pistora tracked the band by calling "Mr. Van's" cell phone periodically.
"Mr. Van put updates on his cell phone so we could call twice a day," Pistora said. "It was fun to keep up with all the goings on."
A remembrance
The five days on the road were not without emotion for band members and director alike. VanMiddlesworth, who had brought home a souvenir football from the Cotton Bowl trip, asked the kids to be on the watch for a Liberty Bowl football he could buy. To his delight, a group of band members bought a football for him, and just before sitting down for a group photo outside the stadium, gave the football to him -- complete with all their signatures.
"The kids presented it to me and thanked me for taking them down to the Liberty Bowl," VanMiddlesworth said. "It was just amazing -- the love those kids have and the appreciation those kids have."
Another teary moment came just before the field show.
"I told them, 'You guys have to play with this amount of intensity, you have to go out there and work hard and you have to play it from your heart because this is the last time we're going to play this show together,'" VanMiddlesworth said, recalling the looks on their faces.
"Their eyes were just telling me we're going to do this, we're going to got out there and win."
Playing with a pro
The halftime show, in which Tonganoxie, and bands from Pennsylvania and Oklahoma performed, included two numbers played with country music star Clint Black singing.
The band had been practicing the songs, "We Tell Ourselves," and "Killin' Time," in December.
"The kids had the songs memorized and we had basically only two weeks to do it, so it was pretty cool," VanMiddlesworth said.
And, he said, playing on a field with Black is something band members will long remember.
"It was really neat because down the road whenever we see Clint Black on TV, we can say, 'Yeah, we played with him,'" VanMiddlesworth said.
But the best part of the trip has little to do with celebrities or trophies, he said.
He recalled the band's reaction when at the awards ceremony they received double-digit trophies and plaques.
"The kids were hugging each other, the parents were hugging each other and kids were hugging me," VanMiddlesworth said. "It's about the wonderful feelings that we're going to have when we graduate from high school, we're going to look back and we're not going to remember the trophies -- we're going to remember how well we played, how much fun it was and the neat things about the trip."
Coming together
Key to the trip's success was teamwork, he said.
"My hope was that we could pull together as a team and work hard," VanMiddlesworth said. "It was seeing what we can do if we can work together, even if the road is up and down -- and I think they got it."
The future of Tonganoxie High School's band program continues to look bright, as about half the band's 58 members are freshmen.
Although students still have a lot of work to do before the semester is complete, at least for a few days, it will be OK to have their heads in the clouds, VanMiddlesworth said.
"The thing is," he said, "they discovered what it's like to be the top band at a major competition and I think what sets us apart from other groups is that I hope the kids will say, 'OK, we've worked hard and we've done well and now we need to move on.'"