Atchison spoils Chieftain invitational again
Chieftain grapplers aren't appreciating the view of Atchison they keep seeing.
Despite a three-point advantage Tonganoxie had on Atchison going into the finals of Saturday's Randy Starcher Memorial Invitational in Tonganoxie, Atchison pinned the Chieftains with another second-place finish. In the season's opening tournament in Atchison, the Redmen also stood in Tonganoxie's way of a first-place finish, the same results THS had to settle for in the same tournaments last season.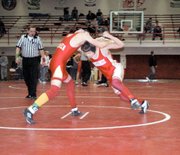 The Chieftains did finish higher than Atchison at the Salina South Invitational on Jan. 11, but when both are vying for a first-place finish, Atchison has dominated. The Redmen outscored Tonganoxie, 172.5-150, on Saturday.
"It's just a broken record," THS coach Jeremy Goebel said about Atchison's success. "I told them 'let this motivate you for regionals.'"
Tonganoxie's lead quickly evaporated in the finals. The Chieftains sported six wrestlers in the finals, but all finished with second-place finishes, including Andrew Miller, who lost to David Downing. Miller defeated Downing at Salina South on Jan. 11 after Downing won in the Atchison Tournament last month.
On one occasion, Tonganoxie came oh so close to taking gold in that final round.
James Hartshorn battled into overtime before losing by two in the 215-pound division. In the 171 class, Matt Weyer dropped a 3-2 decision to Atchison's Josh Erpelding.
"The guys worked their tales off and I appreciate it," Goebel said.
Because of restrictions on the number of tournaments and duals wrestlers can compete in, Chad Starcher sat out of competition Saturday.
He will be back for the Holton Invitational on Saturday.
Goebel hopes the Chieftains can win the weight classes and muster their first tournament title this season north on U.S. Highway 75.
"It's getting down to crunch time that in four weeks, if you don't win it, you go home," Goebel said.