When it comes to the Tonganoxie Invitational, the opening round tends to leave the Chieftains with short fingernails.
Thanks to buckets by Shane Howard and Jacob Walker in the closing seconds, Tonganoxie survived a Jeff West rally and claimed a 60-56 win. Walker scored the final shot this year and last season, when Tonganoxie defeated Olathe Christian, 54-51, at the buzzer in the quarterfinals.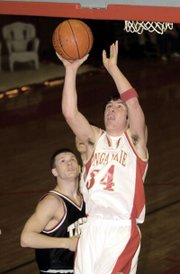 Last year, Walker scored a game-high 18; Monday, his basket gave him his only points of the night, but that made no difference to the team's leading scorer.
"I couldn't care less," Walker said. "It doesn't matter how much I score, as long as we win."
The Chieftains (4-5) actually jumped out of the gates early, building a 21-15 lead after the first quarter, and at halftime they had a 36-33 advantage.
Everything seemed to be in place with a 49-39 lead in the third quarter, but the Tigers (3-6) fought back with a 10-2 run. Jeff West actually tied the game at 56 in the final minute after the Chieftains couldn't seal the game from the free-throw line. Jeff West was called for an intentional foul, but Joe Calovich couldn't convert from the line. On the ensuing inbounds play, Tonganoxie turned the ball over.
Trailing 56-55, Jeff West converted one of its free throws, allowing Shane Howard to break the tie with a jumper and 29.2 seconds left on the clock.
Starters Justin Walker, Jacob Walker and Luke McCarty were plagued with cold symptoms last week, but a supporting cast helped the Chieftains on Monday.
Tonganoxie had 10 players score, and six of those just missed double figures. Howard and Calovich led the team with nine apiece , while Billy Baska and Jon Gripka each had eight.
Chad Turner and Brad Reischman each had seven in the victory. Reischman has helped the Chieftains off the bench as of late. He scored six against Bonner Springs on Friday.
"He's just going to be a plugger," THS coach David Walker said about the senior.
Jeff West's Andrew Cherry fouled out, but not before he scored a game-high 14. Duston Burns also was in double figures with 10 in the loss.
No. 3 Tonganoxie will now take on No. 2 Eudora (7-3) in the tournament semifinals.
The Cardinals outlasted Pleasant Ridge, 46-45, on a three-pointer from senior Caleb Niedens with 2.6 seconds left Monday.