Tonganoxie students spell way into annual bee
When the last word was presented, Sarah Swaim didn't falter.
The Tonganoxie fifth-grader spelled "diagram," correctly Friday morning, making her the first-place winner in the annual Tonganoxie spelling bee.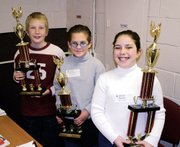 Close behind her, taking second place, was another fifth-grader Austin Baragary, who had mistakenly added the letter e to the end of the word, "devout." And next in line was sixth-grader Josh Hendrix.
All three, who received trophies for Friday's win, will compete at the county's spelling bee, which is set for 1 p.m. Feb 7 at Riverfront Community Center in Leavenworth.
After the competition the smiling students held their trophies as they talked about the event.
Josh, who is the son of Jennifer and Mark Hendrix, said the bee took him by surprise.
"I thought it was going to be in February, so I just did my best even though I hadn't studied," Josh said.
Josh fared well -- the best of the sixth-graders, stepping out of the competition only after misspelling the word, "admissive."
But Josh, wasn't overly concerned about his departure from the bee. After all, when it comes to spelling, he's an A-plus student.
Sarah, on the other hand, came to the spelling bee prepared.
"I studied during commercials while I was watching TV last night," Sarah said. "And this morning I was running around spelling everything that I saw."
Sarah is the daughter of Lisa and Ron Swaim.
All three of the students said they love to read.
Austin, who is the son of Kathy and Bill Baragary, reads books he likes over and over.
"I'm reading the fourth Harry Potter book for the eighth time," Austin said.
Josh, who just finished reading the fourth Harry Potter book a third time, said he loves mysteries, as does Sarah.
"I'm big on mystery books," Sarah said.
Becky Lamb is Sarah's teacher, Dianne Mahoney is Austin's teacher, and Andrea Carden is Josh's teacher.
At Tonganoxie Junior High School, seventh-grader Mandy Sawalich and eighth-grader J.T. Ridenour won the spelling bee. The two also will attend the Feb. 7 county spelling bee in Leavenworth.
Junior high students who qualified for the Kaw Valley League spelling bee, which will be held Feb. 12 at TJHS are:
Seventh-graders: Mandy Sawalich, Annie Mills, Kaitlyn Saathoff and Tyler Gurss.
Eighth-graders: J.T. Ridenour, Daniel McIntosh, Casey Davis and Ben Langston.