100 years and going strong
By all accounts, Gertrude Miller could be said to be hitting the century mark in style.
She still lives at home. She's as sharp as a person half her age. She's loved by family and friends.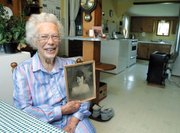 On Sunday afternoon, Gertrude celebrated her 100th birthday, alongside a great-grandson, Daniel Monahan, who was born on her 91st birthday.
Gertrude has long been known as a forward-thinking woman. For instance, when she was close to 90, she added a sun porch onto her rural Bonner Springs home.
And, even at the age of 100, she gardens.
When Gertrude, and her daughter, Carolyn Clark, met a visitor in the front yard last week, Gertrude came forward with a garden trowel in her hand. Despite the 90-something degree day, she was tending to her plants.
On a table in the shade about 20 potted plants waited for Gertrude's ministrations.
"I like the little plants that grow on the ground," Gertrude said. "But I'm a little partial to the begonias and ferns and things like that."
In good health
Gertrude was born July 22, 1903, in Ottumwa, Iowa. While she was an infant, her parents moved to Kansas City. In 1921, Gertrude married Robin Miller. She recalled their start.
After high school, she worked at Woolworth's on Minnesota Avenue. When a handsome young man came in to see her, she remembered she had gone to a country school with him in the first grade. The couple began dating. When Gertrude was 18, they married.
Their family grew, but life was not always easy.
"We have five kids," Gertrude said. "We lost one when he was 5 years old. He had pernicious anemia. Now, they can cure it but they didn't know about it then."
Of their growing brood, two children -- the first and the last -- were born at home. The others were born in a hospital.
In about 1945, they moved to the farm home where Gertrude still lives today. In 1988, after 67 years of marriage, Robin died.
The couple's children have stayed close to home. Lawrence Miller lives in Leavenworth, Lewis Miller lives between Bonner Springs and Basehor and Howard Miller lives in Bonner Springs. Gertrude's daughter, Carolyn Clark, lives with her on the family farm.
For the most part, Gertrude has enjoyed lifelong good health. A few years ago, when she was suffering from health problems, she lived temporarily at a nursing home.
That didn't suit Gertrude.
"They put me up in a nursing home for about two months," Gertrude said. "I cried every day I was there. They were good to me and they couldn't have treated me any better, it's just that it wasn't home."
A whole lot easier
To Gertrude's children, memories of home would be incomplete without the aroma of fresh baked bread.
For years, Gertrude has been famous for her "light rolls," a yeast biscuit type roll recipe she could whip up for her family.
Carolyn recalls that the rolls were always on hand.
"Mom would bake bread once a week on wash day," Carolyn said. "Every Monday was wash day and that's when we had navy beans and homemade light bread."
Granddaughter Kathy Monahan said Gertrude has long shared her roll recipe, which is included with this story, with everyone.
"We all have her recipe," Monahan said. "But they never turn out the same. She just knows how much flour to put in."
Gertrude said she's surprised at how cooking habits have changed since she was younger.
"Oh mercy. They don't cook like they did when I was growing up and raising my family," Gertrude said. "They got it a whole lot easier than I had it because you can buy so many things prepared."
As Gertrude visits, her 4-year-old dog, J.J., sleeps under the kitchen table. J.J. came about after Gertrude mentioned to her light man, Jim Jones, that she'd like to have a dog. So when Jones located a puppy, she named the dog after him.
Family members warn visitors ahead of time to beware of Gertrude's staunch protector. J.J. is a ferocious barker.
It appears the years have been kind to Gertrude, who still stands erect, and though she walks carefully, is able to get around on her own.
When she was young, it could be said that Gertrude was a beauty. Bright green eyes still accompany her flashing smile. It's been years since her dark brown hair turned to silver. Yet she's as filled with energy and determination as ever.
That's part of her secret. Here's Gertrude's advice for staying young while growing old:
"If you can be busy, have something to keep your mind on and something to entertain you," Gertrude said. "I think if you're busy that's good. If you're just sitting around studying, that isn't good on anyone."
Among those celebrating the birthday girl's 100th year was Kathy Monahan, one of Gertrude's 11 grandchildren, Kathy is the mother of Daniel, who was born on his great-grandmother's 91st birthday.
Daniel, one of 12 great-grandchildren, said he planned to attend his grandmother's birthday party on Sunday, as well as his own, set for the following day.
He said if he lives to be 100, he hopes that he's "famous like my grandmother."
No matter how long beloved parents and grandparents live, it's never long enough. At least not to people like Kathy Monahan who became teary eyed just talking about how marvelous her grandmother was.
"Grandma always said if only she could make it to her 100th birthday," Monahan said. "I hope she will keep on looking forward to something after that. She's not the quitter kind."