Walk(er)in' on sunshine
Senior bounces to state triple-jump title, new school record
Triple jump, triple champion.
With a late-season surge that helped Jacob Walker win both the Kaw Valley League and regional meets, the senior sizzled red-hot on Friday in 95-degree Wichita with one last gold medal.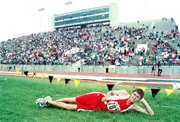 Walker topped off his high school career with a narrow first-place finish at the State Track and Field Champion-ships at Wichita State's Cessna Stadium. The finish made him the first Tonganoxie High state champion since brothers Brian and Eric Hammond won the 400 and 1,600 meters respectively in 1993.
The senior survived a congested field while breaking his own school record with a 43-foot 6-inch mark.
Just 4 1/2 inches separated first place from fourth. Clay Center's Derek Corral placed second at 43-5, Smoky Valley's Brandon Krinhop was third (43-2 1/2) and Andale's Michael McFadden took fourth (43-1 1/2).
Walker, though, stayed true to his regional placing. The state program showed Walker with the top distance from regionals at 42-11 3/4, while Corral was No. 9 overall coming into the meet.
A two-time state qualifier, Walker also broke his own school record (43-4 1/4) he set at the KVL meet. Both jumps came in the second attempt of prelims. Walker couldn't explain the trend, but he knew that gold-medal streak had to be extended through the final weekend.
"It was a good feeling," Walker said about realizing he had won the state event.
Meet/Distance/Place
Lansing/NA/second
Basehor-Linwood/42-7/first
Eudora Invit./41-10.5/first
Eudora Relays/42-6.75/first
Gardner-Edgerton/42-7/second
Tonganoxie/41-6.5/first
SM North/42-8.5/eighth
KVL/43-4 1/4/first
Regionals/42-11.75/first
State/43-6/first
The event actually had a slight delay. Suspense built for Walker as he waited to learn of his final placing.
Corral had to run in the Tigers' 4x100 relay before taking his final leap into the triple-jump pit. That meant Walker had a 10- to 15-minute wait before discovering he won the coveted gold.
"I was waiting around just to see where I'd finish," Walker said.
The Clay Center athlete finally returned, but he couldn't usurp Walker's top spot.
The state medal came one year after Walker made the triple jump finals but didn't medal. The top eight teams advance to finals, but just the top seven medal.
That seemed to be Walker's story as a junior and sophomore. As an underclassman, he usually would place fourth or fifth but would never medal, something jumps coach Chris Weller said would irk Walker.
Last season, Walker would medal, but it was on an inconsistent basis. He also would scratch frequently.
As a senior, however, both problems seemed to disappear.
And once the postseason began, Walker was in a prime condition.
"Right before league he really put it together," Weller said. "It seems like the last three he's really been peaking out."
At a Class 4A regional May 23 in Louisburg, Walker was in second going into his final jump. Piper standout Marcus Carr had taken the lead a week after finishing second behind Walker in the KVL meet. A year ago, Carr claimed the final medal spot at state -- one place ahead of Walker.
Before the final attempt at regionals, Walker's body language indicated to Weller that he would come through. With eyes intensely focused and a slight hop in his walk, Walker approached the runway. Moments later, he took first, outdoing Carr by more than five inches.
"When he stretches out on his third jump there's no one who can really touch him," Weller said. "It's really pretty how he comes together."
Walker also advanced to state with the 4x800 relay and in the long jump. On Saturday, Walker was the relay's second leg and he helped the Chieftains to a fourth-place finish.
After taking first in the triple jump Friday, he competed in the long jump, but that gold medal seemed to still be on his mind. Walker finished 13th with a 19-9.75.
"This is what I came for," Walker said about the triple jump. "Long jump is just for fun."