Hot start can't save Chieftains from substate defeat
A year ago, Tonganoxie upended higher-seeded Lansing in substate after failing to defeat the Lions in the regular season.
For a half Monday in Lansing, the Chieftains had their time machine set on repeat.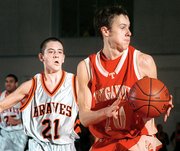 The Lions once again represented the top seed, while Tonganoxie had to settle for No. 8 instead of No. 5.
Out of the gates with fire as they've been regularly this season, the Chieftains swiped Lansing passes and hit their own. Tonganoxie held an eight-point lead on three occasions in the first half. On the offensive end, smooth shots seemed to find a home within the rim.
Junior Shane Howard released a shot from the right corner. After a bounce and a high bank off the backboard, the ball plopped through the basket as Howard watched while lying on the ground.
Howard was fouled but couldn't make the four-point play. Regardless, the Chieftains were hitting from the outside and inside while the successful Lions weren't playing up to their season standards.
Even at halftime, the teams were tied at 29, similar to two games decided in overtime this season. But when players emerged from the locker room for the second half, The Lions roared back into their role as the top seed, while Tonganoxie found those Cinderella slippers to be too tight.
Lansing used a 9-2 run to open the second half and never looked back. The Lions won the substate quarterfinal, 70-59, advancing to Thursday's semifinals against Jeff West in Holton. Tonganoxie, meanwhile, couldn't mark down another classic win against its fiercest rival. Instead, the Chieftains penciled in their 12th consecutive loss. Tonganoxie finished the season 4-17 as seniors Jacob Walker, Jon Gripka, Chad Turner and Brad Reischman played in their final prep games.
"It's kind of the same story always," Howard said. "We always come out with fire that first quarter and then don't finish."
Howard ended the night with a game-high 18 points, while Jacob Walker finished his career with a 13-point outing. Lansing, though, answered with four players in double figures -- Brian Kern 11, David Jackson 17, Hosea Morgan 12, and Matt Bunce 14.
The biggest statistic may have come from the charity stripe. The Lions made 19-of-25 free throws, while Tonganoxie only shot nine, sinking six.
The Chieftains caused some problems in the first half with an ever-changing defense, but in the second half, THS coach David Walker said it was the Lions who were on their toes.
"They did a good job of getting boards we should have had in the second half," Walker said.
After finishing 12-11 and a game away from state last season, Tonganoxie couldn't match that magic this season, thanks ultimately to that large losing streak to end the season.
But, as Howard said, it will have some weight when next year's team opens with two-a-day practices in November.
"Going through a 12-game losing streak has meaning in that it's going to make you stronger," Howard said.
Lansing 70, Tonganoxie 59
Tonganoxie 16 13 11 19 -- 59
Lansing 10 19 20 21 -- 70
Tonganoxie (4-17) -- Howard 18, Gripka 4, Turner 9, Justin Walker 4, Jacob Walker 13, Luke McCarty 4, Joe Calovich 7.
Lansing (15-6) -- Brian Kern 11, Hunter Martin 4, David Jackson 17, Kyle Davoren 2, Hosea Morgan 12, JoJo Haines 4, Matt Bunce 14, Daniel Kenner 6.
Bonner Springs 64, Tonganoxie 55
The Walker brothers produced again on the same night, as Jacob scored 20 and Justin scored 10, but it wasn't enough, as Bonner Springs won the regular season finale, 64-55.
Tonganoxie actually held a 26-21 lead at the half, thanks to a 14-6 second quarter, but the Braves responded with 27 points in the third quarter. BSHS had just six players score, but four were in double figures.
Tonganoxie 12 14 10 19 -- 55
Bonner Springs 15 6 27 16 -- 64
Tonganoxie -- Howard 10, Sparks 3, Gripka 3, Justin Walker 10, Jacob Walker 20, Luke McCarty 2, Joe Calovich 7.
Bonner Springs McGinnis 1, Staklay 2, Weathers 16, Cook 14, Krug 17, Gillespie 14.
Immaculata 81, Tonganoxie 67
The Chieftains could have defeated Immaculata under one condition -- Chris Elliott or Danny McEvoy don't suit up.
Elliot scored a whopping 38 points, while McEvoy scored 23 in the Raider rout.
Tonganoxie came back from a 19-8 first quarter deficit and trailed by 7 at the half, but another third quarter spelled doom as Tonganoxie lost, 81-67.
Immaculata 19 19 23 20 -- 81
Tonganoxie 8 23 16 20 -- 67
Immaculata -- McEvoy 23, Supplee 8, Todd 4, Scanlon 4, Elliott 38, Day 3, Kaufman 1.
Tonganoxie -- Howard 4, Sparks 4, Turner 6, Gripka 10, Walker, Justin 10, Walker, Jacob Walker 15, McCarty 5, Brad Reischman 6, Joe Calovich 7.