Mother rallies for continued funding for 'Teslas' of the future
Tesla feels no pain.
When she falls, she's not crying out of pain -- she's crying out of frustration. At 2 1/2 years of age, Tesla still is struggling to walk.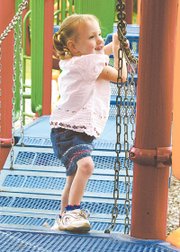 Although she can't keep up with her brother, Dyson, who is seven months older, she tries. Tesla scampers after him on all fours, or she takes out in a specially made walker, chasing him around the house.
Rusty and Laura Felty expected to see their child born in January 2001. But Tesla, who was named for physicist Nicola Tesla, inventor of the alternating current induction motor, had other ideas. She arrived four months early -- on Sept. 14, 2000. At birth she weighed one pound, and if her mother could have held her, she would have easily fit in her hand.
Tesla, who spent her first three months in the hospital, is still developmentally behind. But she's milestones ahead of early predictions.
The family has health insurance through Rusty Felty's work at Sprint. But the insurance didn't cover Tesla's much-needed home therapy sessions. This, instead, was provided through Infant-Toddler Services. ITS falls under the Individuals with Disabilities Education Act, a program that Laura Felty fears may have its budget cut in July.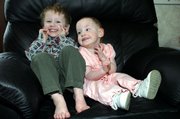 Tesla's mother, Laura Felty, credits home visits by speech therapists, occupational therapists, physical therapists and an early childhood special education therapist for Tesla's progress.
Although still lagging in cognitive development, motor skills and speech, Tesla continues to show improvement. Just three months ago, Tesla learned to use her hands instead of her elbows, when crawling. She has a limited vocabulary at this point, but seems to understand whatever is said to her.
Because of her early birth, her mother said, she is unable to feel the sensation of pain. Also, when in hot weather, the family has to take extra precautions to keep Tesla cool because she can not sweat.
Bringing up Tesla has not been easy. But the Felty's are determined to help her as much as they can. Her father improvised a tricycle, using Velcro that helps to hold her shoes to the pedals. He plans to make a special mouse so that Tesla can learn to use a computer. While their care and concern has been well and good, Tesla's needs also have included special services far beyond that.
Dawn O'Brien, coordinator for the Leavenworth County tiny-k program, which falls under the state's Infant-toddler services program, said the agency is underfunded as is. "They took $5,000 away from my budget this year," O'Brien said about the state. "That's a ton of visits for kids that they're not going to get."
More, not less money, needs to be directed toward the tiny-k program, said O'Brien, who with Felty recently spoke to members of the Legislature. The program is funded through the federal government, with state dollars added to it.
"I think the program is devastatingly underfunded," O'Brien said. "We're trying to do pancake feeds and dinners and golf tournaments. Basically, we're begging people for money and that doesn't feel right either."
In Leavenworth County alone, tiny-k serves 128 children age birth to 3 years, and refers those who don't fit into their criteria to other agencies, such as Parents as Teachers.
Kim Young, parent educator with Tonganoxie's Parents as Teachers program, said the tiny-k program needs to be continued.
"We support funding for tiny-k, because they provide crucial services to our children from birth to three years that have special needs," Young said. "We know that any time we can help some of the children get their special needs by age three then they won't need as much special services down the road. For children who will need help all through their school career, it's just wonderful to get them started and get them as much special services as possible early on."
O'Brien said Tesla is such an example.
"She is one of those kids that will probably need those special education services," O'Brien said. "But she probably won't need them to the full extent that she would have."
By this summer, if and when the tiny-k services are cut back, Laura Felty, who is a licensed practical nurse, will be returning to college. She plans to study toward becoming a registered nurse, and she will enroll Tesla in the college's daycare center. And after that, Tesla will fall into the public school system where she will receive the special services she needs. So, Felty's not campaigning for her daughter anymore. She's campaigning for continued funding to help other children like Tesla -- children who will need special services that insurance doesn't cover, or for those who have no insurance.
"I don't know that any cutbacks will affect Tesla all that much," Felty said. "But it will affect the Teslas of the future."