Revved about reading
School program's funding in question for next year
Ruth Wickey is thrilled.
"It's exciting," said Wickey, who is a first-grade teacher in Tonganoxie. "This is the first year I've had all my kids reading on grade level."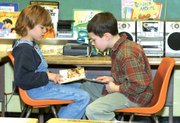 Wickey credits her classroom's success to the Reading Recovery program, which is taught by Deniece Wakeman, and to the district's guided reading program, both which work with children who need additional help in learning to read.
Wickey hopes, despite a tightening of the state's budget, that the district's Reading Recovery won't be cut.
The program succeeds, said Wickey, explaining that children who at the first of the year lacked the confidence to read aloud now jump at the chance.
"They get so excited about being able to read that they read their books to their reading group," Wickey said. "They're all excited about reading this year."
Superintendent Richard Erickson said he believed the district would fund the program next year. But, he said, an increase in the program would not be possible.
Reading Recovery focuses on bringing 100 percent of the students in a classroom up to grade reading level. A Reading Recovery teacher, who works individually with four students on a daily basis for an average of 15 weeks, can only cover about two classrooms a year. Tonganoxie Elementary School has five first-grade classrooms.
Tammie George, assistant principal, said in the past two years, the district has received about $20,000 in state grants each year to help fund the Reading Recovery program.
"It's my understanding that the grant money is going to possibly be cut," George said.
George wishes all the first grade classes could be involved in Reading Recovery.
"We would like to add another teacher," she said.
If, in the future, the district can't fund Reading Recovery, George said Wakeman could go back to teaching a traditional classroom.
"What she's learned would benefit any students in the classroom," George said. "But I feel like this way we benefit the kids who are really struggling in more than one classroom."
Reading Recovery works by having students meet individually with a trained reading teacher for 30 minutes each day. After an average of 15 weeks, students are reading at their grade level.
Wakeman, who has taught in the district for 30 years, trained at Emporia State University two years ago to become the local Reading Recovery teacher. She said it's important that children become fluent with language. She wants them to think of reading as they do speaking -- so that it has meaning to them.
"In the beginning, a lot of kids don't really get the connection," Wakeman said. "They just look at the letters and try to say them."
And, in Reading Recovery, the children learn to build on words they learn, improving in writing, as well as reading.
"They're constantly cycling back and forth," Wakeman said. "They're reading it, they're writing it."