Tonganoxie teams each take bronze at G-E
Tonganoxie had to settle for third last Friday at the Blazer Invitational last Friday, but the girls team was in the running for the team title until the final event.
Going into the 4x400 relay, eight points separated first from third. Tonganoxie's fifth-place finish in the event wouldn't be enough, however, and the Chieftains had to settle for third. Host Gardner-Edgerton won the meet with 87.5 and Kaw Valley League foe Mill Valley was close behind with 84. Tonganoxie claimed third with 74 points.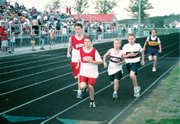 "This was as tough or tougher than the Eudora meet," Chieftain coach Bill Shaw said. "You've got Gardner and Paola. You've got Mill Valley -- that was our league champion two years running with the girls."
Laura Jeannin paced the Chieftains with a first-place finish in the 1,600 (5:34.46) and a third-place slot in the 3,200 (13:00.86).
"That's outstanding," Shaw said.
Sarah Bradley came through with a first-place finish in the shot put at 34-6 and a sixth-place finish in the discus (91-4.5). Heather Deaver placed fourth in the discus with a 96-7 throw. Kelly Breuer was the only other Chieftain to place in a throwing event. She notched sixth in the javelin with a 96-3 throw.
Katie Jeannin placed second in the 800 with a 2:30.52 time, while teammate Madison Weller placed sixth with a 2:38.42 time.
Rachel Weston again reaped multiple medals, taking third in the high hurdles (16.73), third in the intermediate hurdles (51.58) and fifth in the high jump (4-10).
Jennifer Reischman placed second in the high hurdles (16.68), while Heather Helm placed sixth in the intermediate hurdles (52.37) Tonganoxie's 4x800 team placed third with a 10:15.74 time and the 4x100 team placed sixth with a 56.13 time.
Finishing out the team scoring were: Lansing, 68; Paola, 66; Louisburg, 65; Wellsville, 59.5; De Soto, 41; Piper, 13.
After Tuesday's Tonganoxie Invitational, the Chieftains will be at the Piper Invitational on Thursday and a handful of team members will head Friday to the Shawnee Mission North Relays.
The 4x800 team of Laura Jeannin, Katie Jeannin, Weller and Helm will compete. Laura Jeannin also will run the 1,600 and Katie Jeannin the 800. Helm also will run in the intermediate hurdles.
Because she'll be attending her brother's college graduation, Reischman won't compete at Shawnee Mission North.

BOYS TRACK
The Chieftains nabbed third as well, but the rankings were determined a bit earlier.
Gardner-Edgerton took first with 154 points, while Lansing had 104 in second. Tonganoxie took third, but finished with 60.5. Paola took fourth with 53.5, while KVL opponents Mill Valley scored 51 and Bonner Springs 41. Louisburg scored 35, De Soto 23, Wellsville 22 and Piper 14.
Kyle Norris was the team's lone gold medallist. The senior took first in the 800 with a 2:00.98 time. He also placed third in the 1,600 with a 4:35.38 time. Andy Kolman was fifth in that event with a 5:06.41 time. Tony Aligo captured fourth in the 800 as well, finishing in 2:07.68.
In the triple jump, Jacob Walker placed second with a 42-7 jump. Billy Baska took fifth in the event with a 39-8.5 mark. The duo placed in the long jump as well as Walker took fourth (20-8) and Baska placed sixth (19-10.5)
Andrew Miller took home Tonganoxie's only medal in the throwing events with a second-place finish in the javelin. Miller threw for a 168-9 distance.
Travis Andrews was fifth in the pole vault with a 11-0 height, while Joe Calovich placed in the high jump with a 6-0 height.
Tonganoxie's other placers included Shane Howard in the high hurdles (2, 15.81) and the 4x100 team (6, 47.52).
Tonganoxie competed in its home meet Tuesday, but results weren't available at press time for The Mirror.
Later this week, Tonganoxie will compete in the Piper Invitational and Kyle Norris, Jacob Walker, Tony Aligo, Levi Huseman, Shane Howard, Tommy Powell, Mark O'Brien, Travis Andrews and Andrew Miller will compete at the Shawnee Mission North Relays.