Girls claim title at home meet
Chieftains set for league invitational today at Basehor-Linwood
Miserable weather couldn't dampen another team title for the Tonganoxie High girls track team.
Outscoring league rival Lansing, 141-136, the Chieftains avenged a second-place finish to the Lions' on their home track in Tonganoxie's season opener.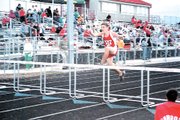 And they accomplished the feat with a blistering wind and occasional rain. The Chieftains managed four first-place medals but held 24 places overall for the slim win.
Rebecca Mages in the high jump (4-10), Kelly Breuer in the javelin (94-4), Katie Jeannin in the 800 (2:44.59) and the 4x800 relay (10:42.7) all won gold medals.
Tonganoxie produced the most medals in an unlikely event. Mages was one of four Chieftains to place in high jump. Rachel Weston was second with a 4-10 jump, Kylie Ritchey third with a 4-8 mark and Heather Helm, who has been practicing high jump recently, took fifth with a 4-4 height.
With the league meet on the horizon today, extra points from more members like Helm could be pivotal.
"In order for us to compete at KVL, we have to have four-event some people," THS coach Bill Shaw said.
Tonganoxie picked up some of those extra points last week in the 3,200. Laura Jeannin (14:06), Megan Holton (14:24) and Elizabeth Smith (14:24) were third, fourth and fifth respectively in the event.
Tonganoxie provided another good showing in the hurdles as Rachel Weston (16.5) took second in the 100 hurdles and Jennifer Reischman was fourth with a 16.9 mark. Weston placed second in the 300 (52.16), while Jennifer Reischman placed third with a 52.18 time. Heather Helm finished in fourth. She was clocked at 53.9.
In distance events, Madison Weller followed behind Katie Jeannin in the 800 in second place with a 2:48.27 time. Laura Jeannin, meanwhile, took third in the 1,600 with a 5:55 time.
Tonganoxie placed in all three relays. Along with the 4x800 first-place finish, the 4x400 took second (4:40) and the 4x100 mustered a fifth-place slot (1:07).
In the remaining field events, Kylie Ritchey took fourth in the triple jump (29-11.75), while Weston was fourth in the pole vault (6-6) and Breuer sixth (6-0). As for Tonganoxie's throwing events, Sara Bradley placed third in the shot (34-1) and fifth in the discus (93-7) to complement Breuer's gold in the javelin.
The Chieftains will enter Round 1 of their final three meets at 4 p.m. today with the Kaw Valley League meet in Basehor. Because Basehor-Linwood's graduation has been scheduled for Thursday, the meet was moved to Wednesday. The meet will take place Friday if inclement weather postpones it.
Team scores:
Tonganoxie 141, Lansing 136, St. Pius X 96, Pembroke Hill 91, Piper 26, Basehor-Linwood 23, Atchison 18, Immaculata 17.

BOYS TRACK
The Chieftains finished behind Lansing for the second consecutive week, but Tonganoxie had a much closer margin at home. Lansing scored 165 to Tonganoxie's 152 last Wednesday. At the Blazer Invitational on May 2 in Gardner, Lansing scored 104 for second while Tonganoxie was a distant third with 60.5.
Last week, Kyle Norris led the team with two gold medals -- one in the 800 (2:07.17) and the other in the 1,600 (4:54). Jacob Walker ran away with the triple jump (41-6.5), while Joe Calovich claimed first in the high jump (6-0).
Tonganoxie gathered the most medals in the longer distance runs. Norris, Levi Huseman (third, 2:11.33) and Tony Aligo (fourth, 2:11.63) placed in the 800, while Corey Brest (5:07), Andy Kolman (5:11) and Tommy Powell (5:17) took fourth, fifth and sixth respectively in the 1,600.
Tommy Powell (11:27) placed second and Andy Kolman third (11:40) in the 3,200.
Matt Madeira scored the team's only points in the short distance events, taking fifth in the 200 (25.55) and second in the 400 (56.52).
In relay action, Tonganoxie took second in the 4x800 (8:48.9) and fourth in both the 4x100 (47:55) and the 4x400 (3:53.55).
Tonganoxie pole vaulters nabbed three places as Travis Andrews placed second with an 11-0 mark. Chad Starcher (9-6) and Spencer Davidson (9-0) also took third and fifth respectively.
Jumping events included two Chieftains in each -- Calovich and Matt Chenoweth (fourth, 5-8) in the high jump, Walker and Calovich (sixth, 37-2.5) in the triple jump and Walker (second, 19-4.25) and Billy Baska (18-6.13) in the long jump.
Tonganoxie earned its other points in the shot put and javelin. Nick Stein took second in the shot put with a 45-5 heave and James Hartshorn placed fifth with a 42-3.5 throw.
In javelin, Chris Clark again placed alongside meet champ Miller. Clark took fifth with a 136-3 throw.
Chasing Lansing might be a task again for Tonganoxie this week. THS will have to contend with the Lions today at the KVL meet in Basehor. Tonganoxie coach Phil Williams said Lansing will be the favorite, while Mill Valley also will be a contender.
"They're going to be tough to beat," Williams said about Lansing. "They've got a lot of sprinters."
The meet, which begins at 4 p.m., is the last tune-up before regionals May 23 in Louisburg.
Teams in the regional with Tonganoxie are Baldwin, Basehor-Linwood, Burlington, De Soto, Eudora, Anderson County, Bishop-Ward, Piper, Prairie View, Lansing, Louisburg, Osawatomie, Ottawa, Mill Valley and Spring Hill.
Team scores:
Lansing 165, Tonganoxie 152, St. Pius X 62, Piper 57, Basehor-Linwood 55, Pembroke Hill 45, Immaculata 9, Atchison 8.