Picking up the pieces
Congressman,
FEMA

officials tour tornado-ravaged 166th and State
Thursday's instant replay didn't do much for Janice Brown.
Brown lives in a rural housing development at 166th Street and Kansas Avenue, an area devastated by a May 4 tornado. Just four days later, on Thursday evening, the tornado sirens sounded and the skies looked eerily similar to Sunday.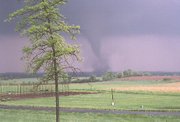 "I was petrified," said Brown, who with her husband, Basil, had not even had enough warning to be able to make it to their basement Sunday before the tornado struck.
"It was just all flashback because the sky looked exactly like it did on Sunday afternoon."
Although from the street, the Brown's home looks as if Sunday's tornado bypassed it, the back view shows another story.
In a matter of seconds, the tornado wreaked an estimated $20,000 damage, primarily on the south and west sides of their ranch house. The funnel's fury twisted metal as if it were paper and even rocketed a neighbor's box springs through the garage wall, splintering glass, siding, Sheetrock and studs.
But like others who call this normally bucolic neighborhood home, the Browns were lucky. They, and even their dog, Buffy (now affectionately nicknamed Toto), survived.
Jumping through hoops
Charlie Ussery, owner of Himpel Lumber, said the storm resulted in a few additional sales at his business. He noted that the bulk of the damage was outside his usual customer area.
"We've seen a few jobs come through that were storm-related," Himpel said.
One of those jobs was for a rural homeowner southeast of Tonganoxie -- a Himpel Lumber customer who a few years ago replaced windows -- windows now destroyed by the May 4 tornado.
This particular window manufacturer no longer sells in Kansas. But Ussery was determined to get the same kind of windows for his customer.
"We had to jump through some hoops," Ussery said. "It took some extra calls, but you don't mind doing things like this to get the job done."
And, Ussery said, he did receive a phone call from a local friend wanting to assist after Thursday night's tornado strike in Lawrence.
"There was no place in Lawrence selling plastic and tarps and things like that," Ussery said. "It was late when that happened -- the stores had already closed."
On Monday, U.S. Rep. Jim Ryun, R-Kansas, toured the tornado-ravaged areas of the state beginning in Crawford County and working his way up to Leavenworth County.
"It's always horrific when you see what has happened. Lives are changed, the devastation is awful. But the resilience of people is amazing," Ryun said.
Off the map
Ryun, who stopped to see tornado damage southeast of Tonganoxie with representatives from the Federal Emergency Management Agency and Small Business Association, said he wanted tornado victims to know he's praying for them.
"We feel their pain and we're here to assist them in whatever they can do to rebuild their lives," Ryun said.
Michael Hall, federal coordinating officer for FEMA, was one of those traveling Monday with Ryun. Hall said he was shocked by the tornado devastation he saw in a town just northeast of Pittsburg.
"I've been doing emergency response stuff for the last 35 years and I haven't seen anything that has been more destructive than a little town called Franklin in Kansas which is gone," Hall said. "It was gone -- the post office, the businesses, the houses. There was a flagpole where the post office used to be -- the waterworks guy put a flag on it and that was it."
In recorded history, this month's tornadoes are a landmark.
"It's an all-time record they said yesterday," Hall said on Tuesday. "There were 400 and some tornadoes from May 1 to May 10 and that's the new all-time record."
And, he noted, the tornadoes were deadly. Area residents know one man died in the May 4 tornado in Wyandotte County. And in Crawford County where an entire town was wiped off the map, the tornado claimed three lives.
"It's as bad as anything I've seen," said Hall, who listed some of the disasters he's worked, including earthquakes in Alaska and typhoons in Guam.
One's enough
Kevin Ellis, whose house at 166th Street and Kansas Avenue was heavily damaged by the May 4 tornado, said he had always wanted to see a tornado.
"I just don't care to ever see another one," Ellis said.
Ellis and his family rode out the tornado in a basement storm shelter. This room, which is beneath a porch, has a concrete ceiling. Although the damage to his home is serious, Ellis realizes how lucky he is. The house next door to the west lost everything -- the tornado even pried the floorboards off the foundation.
Ellis, who described his house as "a little bit breezy with the windows gone," said he and his family are staying with family down the road. He anticipates it may be three months before the estimated $110,000 damage to his home and $20,000 damage to his garage can be repaired.
Despite his better judgment, seconds before the tornado struck Ellis was outside taking pictures of the funnel cloud.
"It was just the tornado going up and down. It looked like it was heading due north, and it turned all of a sudden and headed straight at us," Ellis said. "My wife's still a little irritated with me. I would've bet you a million dollars it wouldn't have hit us though."