Seniors spark Chieftains with clutch offense in regular-season finale
Leave it to a couple seniors to finish the regular season in style.
Trailing 2-1 in the bottom of the seventh on Thursday against Bonner Springs, sophomore Laura Jeannin and senior Karley Bennett were on at second and first, but moments later the Chieftains were down to their final out after a strikeout.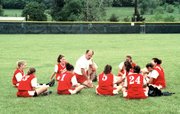 Then came senior Laura Samuels.
The right-hander took an outside pitch and blooped it into right field. With Jeannin already across the plate, Bennett stormed toward home.
With the throw on target from right field, Bennett slid.
Complete with a fresh wound on one of her knees, Bennett rejoiced the come-from-behind win with her teammates.
All of that excitement couldn't have been possible without Samuels' improbable pop to the opposite field.
"I'm usually a pull hitter," Samuels said. "I finally came through at the right time."
Tonganoxie had a 1-0 lead going into the sixth, but the Braves tied the game in that inning. Then, in the top of the seventh, Bennett, got a BSHS baserunner out in a rundown to home. But another runner was headed for third and Bennett overthrew into left field and the go-ahead run scored.
Pitcher Katie Jeannin claimed the win in game one, while Bennett went 2-for-3 with the bat.
That excitement from game one flowed over into the final regular season contest in game 2.
The Chieftains jumped out to a 1-0 lead and had a 2-0 lead going into the fifth. Bonner Springs tied the game in their half of the inning, but the Chieftains mirrored the Braves scoring in the fifth and sixth innings for the 5-3 victory.
While Samuels and Bennett provided an offensive duo in game 1, senior shortstop Jessica Pearson and junior outfielder Michelle McWilliams shined with their Eastons and their gloves.
In the top of the fourth, Pearson made a backhand stab at the ball and then fired a throw to first for the out. McWilliams then finished off Bonner Springs in that inning with a diving snag in the outfield.
The tandem then produced back-to-back triples as Pearson went to deep center and McWilliams hit the ball to left field.
For Pearson, her powerful swing has come through late in the season.
"My hands have gotten quicker and I'm turning my hips more," Pearson said.
The senior went 3-for-3 in the second game, registering 3 RBI. McWilliams also was perfect as she went 1-for-1 with her triple.
Jessica Bogard was 1-for-3 with two runs and Katie Jeannin had a double and two runs. Jeannin also picked up the win, improving her record to 10-7.
At 11-9, the Chieftains were tied with Hayden (Topeka) for the No. 3 seed. After a coin flip last week at regional host Royal Valley, the Wildcats gained the No. 3 seed and Tonganoxie was left with the No. 4 position.
Rain postponed Monday's regional opener with No. 5 Lansing until Tuesday, but the game didn't finish before The Mirror's deadline.
With a Tonganoxie win, the Chieftains would play at 3 p.m. Thursday and likely would face host and No. 1 seed Royal Valley in Hoyt.
Game 1
Bonner Springs 000 001 1 -- 2 6 2
Tonganoxie 010 000 2 -- 3 5 2
Game 2
Bonner Springs 000 021 0 -- 3 10 2
Tonganoxie 101 021 x -- 5 9 2
May 13
Tonganoxie 3, De Soto 2
De Soto 002 000 0 -- 2 10 2
Tonganoxie 001 020 0 -- 3 6 2
Heim 3-for-3, 2 triples, 2 RBI, Jessica Bogard 1-for-3, run, RBI, 2 steals; Laura Samuels 1-for-2, 2 runs.