Fishermen yank 80-pound blue catfish from Kaw
Everyone's heard a few good fish stories, but six local fishermen have a real, live whopper to talk about.
And, because they called Cabela's immediately after making their catch, their 80-pound blue catfish is now on display in a Kansas City, Kan., aquarium where millions of people will be able to see it each year.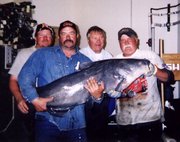 The catch was the result of a team effort on a guys-out camping and fishing weekend along the Kaw River near Lake Quivira.
Charlie Fatherly, Scott Jacobs, Chester Pickens, John Coulter, Mike Brashears and "Capt." Jeff Elder happened to be at the right place at the right time when they pulled the 80-pounder from the Kaw River.
The men were running trotlines baited with crawdads when they hooked the monster at 10:30 p.m. May 16.
The men were checking the lines from Elder's 18-foot boat when they saw the lunker. Fatherly and Jacobs reached for the fish.
"We both grabbed him by the inside of the mouth and the lower lip," Fatherley said, adding that John Coulter kept tension on the line, while Mike Brashears, Chester Pickens and Jeff Elder had their hands full running the boat and holding lights.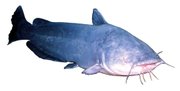 Once the fish was in the boat, the men realized they had something special -- something more special than frying a big fish.
"Chester Pickens was thinking and got on the phone right after we caught him," Fatherley said. "He called Cabela's and arranged for us to meet them there at midnight."
About an hour later, the fishermen pulled up in front of the outdoor outfitters store. Store employees were there, waiting with a tank full of water, a tape measure and camera.
The fish measured 5 feet 6 inches long, and was virtually scar free. It appeared to be in excellent health, Fatherley said.
Although the men had thought the fish would be put into the Kansas City, Kan., aquarium, Cabela's employees talked about the possibility of sending the fish to a Cabela's store in Minnesota.
"It kind of broke our hearts," Fatherley said. "We were telling ourselves the only reason they're doing that is because the tank is too small."
However, the store decided to keep the fish and trade out several of their large, more sedate flatheads to make room for the beast, which would likely be a lively addition to the aquarium.
"They like the blue cats because they swim around," Fatherley said. "The flatheads just sit on the bottom and whatever goes in, they eat."
Here's how they caught the big one.
Fatherly said that a 25-hook line was set for every licensed angler, and each hook was baited with a crawdad as "big as we could get." The crayish were rigged on No. 9 saltwater hooks, under a one-foot leader.
Here's the secret to fishing the Kaw, according to Fatherley: "Big hooks and big bait equals big fish."
That equation certainly seems to be true, as these men have many large fish to their credit. But even their previous record of 65 pounds couldn't hold a candle to this fish. Last week, the men held their fish one last time, just before it was loaded into an aquarium at Cabela's.
This fulfilled a yearlong goal.
"When Cabela first opened up, we were all out there fishing one day," Fatherley said. "We said we're going to put a fish in the aquarium and it's amazing that it happened."
Fatherley, who works for Kaw Valley Sand and Gravel near where the fish was caught, said the fish may be out of the river now, but it hasn't gone far.
"The fish was caught only a couple of miles from Cabela's -- that's practically in their backyard," Fatherley said.
These fishing trips have become a tradition for the men, four of whom have been going several times a year for the past six years.
The guys rely on fishing knowledge, as well as the sort of thing you'd read in a gardening almanac.
"We've been getting superstitious," Fatherley said. "We saw a month ago that the full moon would be on May 15-16, and we said OK that's when we're going fishing."
Their luck continued through the weekend as several more cats were landed, including a 40-pounder, which must have seemed like a minnow by comparison. Or, as Fatherley said, chuckling as he held up a picture of the smaller fish: "We just call it bait."
And what do they call the big fish? Well, that's still up for debate, at least until the fish's gender is known.
"We figure if it was a girl we'd call her Kaw Valley Sally," Fatherley said. "If it's a boy, we don't know. Somebody said to call it Homer."
Fatherley said he's glad that Kaw Valley Sally, or Homer, whatever the case may be, will be on display at Cabela's aquarium:
"It really excited us to know he's going to be hanging out and be alive and with people who are going to be able to see him every day -- wow."