Helping Hands
4-H members prepare care packages for
U.S.

military men and women
The long night began and ended with the hope that U.S. service men and women would sleep a little easier.
By noon on May 5, after a lock-in at the Leavenworth County Fairgrounds, 4-H'ers and other volunteers packed up the last of 754 boxes to send to Kansas National Guard troops stationed in Bosnia.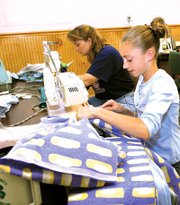 The idea blossomed when the community service committee of Happy Helpers 4-H Club decided they wanted to do something for the Kansas National Guard troops.
Initially, said Carol Bailey, a Happy Helpers leader, she thought the youths might want to prepare enough care packages to send to 50 of the 750-some Kansas National Guard troops stationed in Bosnia.
But the youths had greater ideas -- to send packages to all of them.
So the planning began. Phone calls, drop-off boxes, trips to pick up donated items, and rounding up a committee of women to sew and iron pillowcases became a part of everyday life.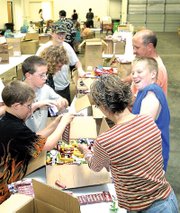 Just about a month into the project, on May 4, the Happy Helpers 4-H Club members, as well as other 4-H club members and a host of volunteers, gathered at the fairgrounds for an overnight work session.
Among those proving their adeptness with a sewing machine was 80-year-old Jean Holt, from McLouth. The pillowcases would be durable, Holt said, adding: "She's making us double stitch these, too."
Workers came and went in shifts. Holt, who had started in the afternoon, planned to go home around 11 p.m.
Mary Theroff, another McLouth resident, learned about the project through her church bulletin, so she decided to participate.
Visitors throughout the evening included members of the Tonganoxie Veterans of Foreign Wars and American Legion, as well as Kim LeRoy, who lives in Wellsville.
She is the wife of a Kansas National Guardsman stationed in Bosnia.
She had heard about the project and wanted to personally thank everyone for their involvement.
Carol Bailey credited the youths for their work, but stressed that the project succeeded because of the community.
And not just Tonganoxie.
Some of the major donors included students at Tonganoxie and Basehor-Linwood elementary schools, as well as shoppers in Lawrence and Tonganoxie who left items in the drop off boxes.
The boxes contained pillowcases, as well as a variety of snacks, hygiene products and entertainment items.
Because not all the pillowcases were completed by May 5, only about half the boxes were shipped with them. But the youths aren't finished yet.
In about a month, Bailey said, they will gather again to pack 300 more packages -- these will include the pillowcases that volunteers are currently sewing.
"It's been a really big community project," Bailey said. "It's branched off from 4-H and we've met a lot of wonderful people."