Chieftains gain experience
Different year, same conditions.
The state cross country meet was held in Wamego again this year. And, mirroring last year, runners competed on the golf course in cool temperatures under overcast skies.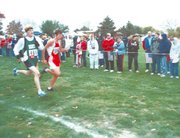 But that didn't bother Tonganoxie runner Corey Brest.
In Class 4A, the Chieftain sophomore finished 56th in 18 minutes, 2.67 seconds.
"I like it cold," Brest said. "I don't like running in the heat."
Brest, a sophomore, said his finish at state gives him something to improve on for next fall.
"I gave it everything I had," Brest said. "It's a quick race.
"I'm working my way up."
Andy Kolman also is headed in the right direction. The junior was the team's leader with a 17:32.44 time. He finished in 40th place.
Fellow junior Matt Chenoweth finished No. 68 (18:18.92), freshman John Davis 78th (18:28.85), sophomore Colt Coffin 89th (18:48.05), senior Ben Brest 90th (18:50.76) and junior Brett Garrett 98th (19:34.72).
Ben Brest is the only senior on a team that finished 12th at state.
The finish snaps Tonganoxie's recent streak of top-three finishes (No. 2 in 2001 and No. 3 in 2002), but coach Phil Williams said this year's state meet should be beneficial for next season.
"They got some experience and, hopefully, that will help next year," Williams said.
For the second consecutive year, Baldwin swept the 4A boys and girls races, while the boys won their fifth straight state title.
On Saturday, the boys finished in first with 57, well ahead of Wamego (87) and Buhler (124). Fellow Kaw Valley League member De Soto finished in 11th as junior Casey Johnson led the Wildcats with a sixth-place finish (16:34.24). Buhler senior Ross Wildin won the boys' meet with a 15:54.76 time.
The Baldwin girls dominated their meet even more than the boys. The Bulldogs finished with 82. Second-place Colby had 112. Eudora finished in eighth place (183), while KVL member Lansing placed 11th (232). Colby sophomore Jessica Stephens won the meet with a time of 11:39.04.