Downtown dwellers
Tonganoxie residents who live on Fourth Street enjoy their digs
For Sandy Bichelmeyer, the joy of living above her business starts first thing in the morning.
"I just walk down the steps and I'm there," Sandy said, noting the interior staircase is especially convenient on snowy days.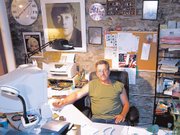 Sandy and Ray Bichelmeyer's downtown Tonganoxie apartment could easily grace the cover of a magazine. It's compact, yes, but the open design and light-colored decor give it a feeling of spaciousness.
The Bichelmeyers are one of several families that make their home above -- or under -- downtown Tonganoxie businesses.
Although it's nothing new to live in the same building as a business, it does appear to be a growing trend.
Three years ago, the Bichelmeyers opened their florist shop, Sandy's Flowers Etc., at 613 E. Fourth St. A year later, the couple moved into the loft they renovated above the shop.
The main area of the 1,000-square-foot loft is one large room that includes a kitchen, living and bedroom. An entertainment center serves as the dividing "wall" between the living room and bedroom. A bathroom is in a separate room. Sandy's favorite room is the sunporch, a window-lined room on the north that gives her a bird's eye view of the neighborhood. Last week her view was especially nice with the hard maple tree turning to gold in the yard of her downtown business neighbor, Dr. Phil Stevens.
Home-based laundry
Meanwhile, across the street, Kevin Haislip, owner of Haislip Laundromat, gets his first view of the morning by looking up. A year ago, Haislip moved into the basement of the Laundromat.
The one-bedroom apartment includes a full-size kitchen, living room, ample closet space and office areas for him and his girlfriend.
Haislip is a longtime fan of downtown living.
"I've lived in every apartment on this side of the block," said the 48-year-old Haislip.
He lived for four years in the second story of the building that recently housed Rustic Impressions. And, he's lived in the apartment above Lil' Mom and Pop Shop.
But now, Haislip has found a home he says he can stay in forever -- the lower level of his laundry.
To add daylight to his underground residence, Haislip installed two large windows that could also double as fire escapes. And, he changed a primitive exterior slant-door stairwell into a sturdy and bright entryway, complete with a fenced garden to the side.
One of his favorite details in the apartment is a 4-foot-by-5-foot walk-in shower. Haislip nodded toward the laundry above and said, "I can take long showers, I've got a very large hot water tank."
Today it's difficult to tell that his apartment was ever anything but a cozy home underground.
But Haislip, who described the 1872 building's basement as in "scary" condition when he bought the building 12 years ago, recalled primitive dirt floors, and a ceiling that looked as if it was about to fall in.
In a downtown filled with older buildings, this one's history is memorable. In the 1950s, Haislip said, the building was known as the Jones Hotel. In 1956, a fire in which two children died destroyed the building. Delmar Delude, owner, poured a cement floor on the first level, and rebuilt the side walls with cement blocks, Haislip said. Delude used the building for his welding business.
Easy eats
Shaun Tyler is no stranger to downtown living. The 35-year-old Tonganoxie man has lived in a second-floor downtown apartment for about four years. Tyler lives above Lil' Mom and Pop Shop.
"It's nice," Tyler said of the one-bedroom apartment he rents from his stepmother, Kay Soetaert. "It's a little noisy from time to time because I work nights and sleep days."
And, he said, living above a restaurant has its benefits.
"All I've got to do is knock on the back door of the burger shop when I'm hungry," Tyler said. "I go in the front door to order, and I pick it up at the back door."
Tyler, who lives alone, has decorated his apartment with antiques, including balloon-shaped brown glass wine bottles that belonged to his great-grandparents, and a library table his mother bought when she was 16.
The apartment has hardwood floors throughout, a semi-walled bedroom area on the north side, and a living room area to the south, beside his kitchen.
"It's perfect for one person," Tyler said.
He thinks others would enjoy living downtown.
"I like that idea," Tyler said. "It kind of gives you the big city feel. I think it's kind of cool."
However, anyone interested in buying downtown buildings had better not wait.
"You'd better buy them quick," Tyler said. "Real estate's not cheap in this town anymore."
An old building
Across the street from Tyler's apartment, and next door to Sandy's Flowers Etc., is a four-unit apartment house owned by Steve and Cindy LaForge.
"That building and Sandy's are the oldest brick buildings in Tonganoxie," Steve LaForge said.
LaForge said he believed the adjacent buildings were built in 1895.
The LaForge's building houses two apartments on the first floor, and two on the second. LaForge said the second floor apartment that fronts Fourth Street seems to be the most popular.
"Once it rents, it always seems to stay rented for quite a while," LaForge said.
Continued from page 12A
And, he said, he hears few, if any complaints about the location.
"It's kind of like living in a little urban downtown," LaForge said. "You're across the street from the
Laundromat, there's parking in the back, and a lot of the people who have lived there have worked downtown in restaurants."
The LaForges, who live in the country, have wondered what it would be like to live on Fourth Street.
Romantic setting
Just down the street above Bichelmeyer's Steakhouse, Matt Bichelmeyer, who lived above the business when it housed his grocery store, said there was a bright side to living downtown.
Incidentally, Matt Bichelmeyer and Ray Bichelmeyer, who also lives on Fourth Street, are cousins.
"There's something about looking down on the streets and seeing the busy streets below," Bichelmeyer said. "Especially with the new Tonganoxie -- the way it is now -- you get a good feel of what's going on in our town."
The upstairs of the century-old building has 12-foot ceilings, said Bichelmeyer, who plans to soon start working on putting in an office and two apartments upstairs.
Even though he now enjoys living in the country with his wife, Vickie, Bichelmeyer said he can understand why people want to live downtown.
There's the constant feeling of life, he said. And there's more.
"There's a bit of a romantic type of feeling when you're up high, for some reason."