Coach pleased with performance of both
THS

cross country teams
Tonganoxie had to replace key seniors on both the girls and boys cross country teams this season, but THS coach Phil Williams' squads finished in the Kaw Valley League's top four.
The boys claimed second in the KVL meet, while the girls placed fourth.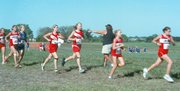 "I thought both the boys and girls teams performed well, probably better than people in the area thought they would," Williams said. "The seniors we had showed good leadership and a good example."
Tyler Davidson, Ben Brest, Amanda Chenoweth and Elizabeth Smith were Tonganoxie's seniors.
The boys team followed its second-place finish at league with a third-place effort at regionals, which advanced the team to state. The Chieftain boys placed second at state two years ago and third last season, but didn't take a plaque home this year after finishing 12th as a team.
Andy Kolman led the Chieftains throughout the season. He placed fourth at league, ninth at regionals and 40th at state. Sophomore Corey Brest also was one of the team's top runners, while fellow junior Matt Chenoweth, freshman John Davis sophomore Colt Coffin, senior Ben Brest and junior Brett Garrett also competed at state. With their top-seven performances at the league meet, Kolman and Corey Brest were named all-league selections. The KVL automatically awards all-league honors to the top seven finishers in the league meet.
For the girls team, Jennifer Wagner led the Chieftains at league with a 16th-place finish, then Kelley Stauch was the top runner at regionals with a 27th-place where she was two slots away from a individual state berth.
At the league meet, Megan Holton placed 19th, Kelley Stauch 21st, Kezia Huseman 23rd, Smith 24th, Amanda Chenoweth 45th and Rachel Smith 47th.
"Girls did well as a pack but didn't have those top one or two runners to help with the team score," Williams said.
Next year, the Chieftains will return most of their runners on both squads, which could help the boys to its first league title in three years and the girls to challenge in the KVL as well.
"I think we could be strong in both groups," Williams said. "We didn't have any seniors in the top five and only one on the girls side."