Reservist eager to return to classroom
Jeremy Goebel was greeted with hugs and squeals.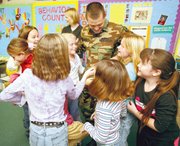 Goebel, Tonganoxie Elementary School's physical education teacher who was called to active duty in February, stopped by the school Monday morning to say hello to his kids -- all 800 of them.
Goebel is just one of the area's servicemen who have returned, or soon will return, home for a visit. He and his wife, Lisa, made a personal visit to every classroom Monday. That is, after he took the time to have a good-natured arm wrestling match with TES principal Jerry Daskoski.
"I can't wait to have you all in class when I get back," Goebel told students in Denise Smith's kindergarten class. "When I come back we'll do lots of activities."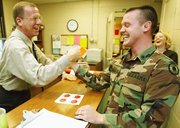 Early this year, Goebel, who is in the Army Reserves, was called into active duty. Since then, he's been stationed at Fort Bragg, N.C.
Goebel told students that in the Army he's had to work out every day. For instance, he runs four to six miles each morning. In the kindergarten class of Debbie Wedel, Goebel demonstrated how he can do 20 pushups -- and he even did it with a smile on his face.
In talking to students in Sara Moraille's class, Goebel compared his work to that of a substitute teacher.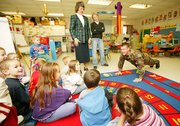 "The regular Army people went overseas and we stayed there and did their jobs," Goebel said.
He's treasured letters written by all of the children.
"I showed them to all my soldier friends and I bragged about you," Goebel told the students.
His wife, Lisa, said there's been a lot of mail.
"Every time I go out there, I bring back his mail," she said, noting she's bought large plastic containers to store the letters.
The couple is expecting their first child to be born at the end of March, and Goebel is supposed to return to Tonganoxie and resume his work at the elementary school in January.
"I'm ready for him to come home," Lisa said. "I'm just glad he'll be home for the birth of our baby."