Students detained following threat
Note threatened bomb Tuesady at
BLHS
At least two Basehor-Linwood High School students were taken into custody after a written bomb threat was discovered late Tuesday morning.
According to Jill Hackett, superintendent, two students -- and perhaps three -- were identified as being responsible for a note, which was addressed to the school's principal and found by another student on the floor in the science wing of the building.
"The other student had nothing to do with it," Hackett said.
The student gave the note to the principal. And shortly, administrators decided to evacuate about 500 students as well as the high school staff from the four-year high school, 2108 N. 155th St
Students and staff were directed to the high school football field about 11:50 a.m., where they waited until an all-clear at about 2:15 p.m.
"They were very well-behaved, very understanding," Hackett said of the students. She stood at the door as they filed back into the school building.
"I thanked them for their patience, and some of them patted me on the shoulder," Hackett said.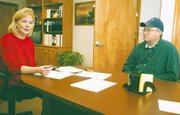 Some students headed to class, while others made their way to the cafeteria for a long-awaited lunch.
"They did get lunch before we sent them home," Hackett said.
Classes at the school were dismissed at the usual time, 2:45 p.m.
As part of the investigation into who was responsible for the threat, Hackett said, staff members and officers interviewed students, looked at handwriting samples and reviewed student schedules.
"I'm very, very pleased it turned out the way it did," said Hackett. "The team really pulled together today. They were very calm and very professional in their approach. We worked together as a team. We were conferring. We were logical."
Hackett said it's possible a third student was involved in the threat. She said the students are minors and would not identify them.
"It was successful," she said. "We were able to detain those who made the threat. They will have consequences."
In addition to possible court charges, Hackett said, the students will face a three-member school district council that will conduct hearings on either long-term suspension or expulsion.
School officials sent a letter home with students on Tuesday, explaining what occurred and stressing that students were safe throughout the investigation.
The Basehor Police Department, the Leavenworth County Sheriff's office, the Tonganoxie Police Department, as well as officers and dogs from Fort Leavenworth and Kansas City, Kan., police departments responded to the incident. Leavenworth County Emergency Management took command of the emergency responders, who also included firefighters from Fairmount and Delaware townships.
"We certainly had a lot of support from local and county law enforcement, and fire departments," Hackett said. "It was remarkable."
And Chuck Magaha, who directs the county's emergency management division, praised the school district's response.
"It went like clockwork," he said. "The school did a good job of implementing their plan. Everyone remained calm. That's the important thing, keeping everybody level-headed."