When Veterans Day comes around, American Legion poppies crop up everywhere.
Almost everybody knows the tiny crepe paper flowers raise money for veterans.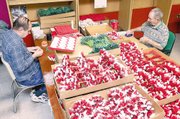 But it's likely that few area residents realize the flowers are produced practically in their own backyard.
In a cavernous room at the Leavenworth Veterans Administration Center, three men make more than 200,000 poppies a year. These poppies are shipped to American Legion posts across Kansas, as well as to several other states.
Last Friday morning, Arthur Lawler and Carol Garvin sat across the table from one another, working on the day's harvest amid a sea of red. Boxes, each filled with 1,000 poppies, were ready for shipment.
Except for the hum of a radio, all was quiet in their poppy room where all work is done by hand.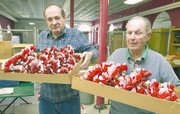 Painstakingly, Lawler wrapped a thin piece of red crepe paper around a form, shaped it into a poppy, and then inserted a green wire through the center. The wire was topped with a feathery green crÃpe paper -- which serves as the center of the poppy.
In a good day, the 58-year-old Lawler said, he can fashion about 500 poppies. He works during the day at the VA Center, and at night, in his apartment downtown.
Lawler, who works seven days a week (he takes two days off from poppy making to work at the Consolidated Mail Outpatient Pharmacy), says the poppies take up much of his life.
"I even dream about poppies," said Lawler, who served in for the Air Force in Germany during the Vietnam War.
Across the table, Carol Garvin applied an American Legion label to the stem of each flower. After he completed 25 flowers, he tied them into a bouquet and placed them in a box for shipping.
Garvin, who looks much younger than his 88 years, said he can label about 700 poppies in a day. From the Eudora area, Garvin served World War II military time in the Navy, patrolling along the East Coast. He now lives in a Lansing assisted-living center and takes a taxi to work.
These two men, along with Billy Stewart, who wasn't working on poppies on Friday, don't complain about their work. It's peaceful, low-stress, and they can see their accomplishments.
"It pays the rent," Lawler said.
Lawler began making poppies in 1983 at a VA in Knoxville, Iowa. When he later moved to Leavenworth, he continued making them. At that time, more area veterans worked on the poppy project.
"We used to have about 50 people making them," Lawler said.
Cherie Thomas, president of the American Legion Auxiliary, is in charge of the poppy workroom for the Veterans Administration center.
Thomas is impressed with the men's dedication.
"They're busy guys," Thomas said of Lawler and Garvin. "Like I said, nobody realizes what these two men do."
The poppies are made and shipped year round, Thomas said.
For instance, in February, they mailed 130,000 poppies to various American Legion chapters.
Although people may think of the red poppies in connection with Veterans Day, they are frequently used year round, Thomas said.
"Some units use them for decorating," Thomas said. "There are wreaths made of poppies and Christmas trees decorated with poppies."
In Kansas, she said, poppies also are made by veterans in the Wichita and Dodge City areas.
Veterans such as these who make the poppies deserve commendation, Thomas said.
"There's not enough attention paid to what the veterans do," Thomas said. "A lot of people have the misconception that all these guys do is drink and carouse, and that's just not true."