Drew Cook smiled as Dr. Richard Dean checked his vision.
After all, it was an exciting day for Drew, and 47 other children who attend Genesis Christian Academy preschool.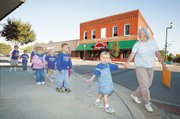 The children, who are 4 and 5, also stopped in for a tour of First State Bank and Trust. At a dental office, Dr. Grant Ritchey checked their teeth. And, at the post office, the children learned what happens to letters they put in the mail.
Terri Brest, a preschool teacher, explained that for the youngsters, the field trip is a learning experience.
"We come to town on a school bus," Brest said. "It's usually the first school bus ride they've had."
While on the bus, the driver talks to them about bus safety.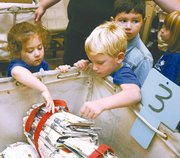 Once in downtown Tonganoxie, the children learn how to walk with a knotted rope. Children alternate sides, each holding onto his or her assigned knot.
"This is especially important when we cross the street," Brest said.
Because there are so many children, they divide into four groups, and all rotate stops.
The field trip serves as a positive introduction to later life experiences.
"Dr. Dean took each child back in his chair and showed them the big, giant letter E," Brest said. "Since they're not really reading yet, he turns the E up or down and they just have to say which way it's facing."
At the bank, children felt how heavy a bag full of pennies are, and they even looked through the bars as bank employee Mike Vernon went in the vault and closed the door.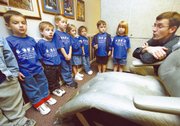 Just down the street, Ritchey gave each student a ride in his dental chair, and counted everyone's teeth. He also talked to them about the importance of brushing their teeth.
And, at the post office, the children brought postcards they had decorated and addressed and mailed them to themselves.
For the students, that wrapped up a morning's activities before they climbed back onto the bus for the return trip to school. Teachers who accompanied the students were Brest, Pam Jeannin, Michelle Tannehill and Roberta Rountree.
"We get back on the school bus and we have our snacks on the way home, and then they go home," Brest said.
And, after a morning visiting the dentist, might one assume the snacks are sugar-free?
Brest laughed, and said, "Oh, of course."